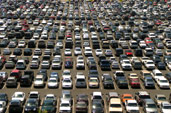 On May 30 and May 31, 2013, the Federal Reserve Bank of Chicago hosted its Twentieth Annual Automotive Outlook Symposium at its Detroit Branch.
The symposium included discussions about the near-term automotive outlook and the impact of last year's automotive labor agreement. On Thursday, May 30, there was a special panel on the role that Mexico is playing in the North American auto industry.
On Friday, May 31, the symposium was held at the Detroit Branch of the Federal Reserve Bank of Chicago. A press release summarizing the symposium is available.
Back To Top