49th Annual Conference on Bank Structure and Competition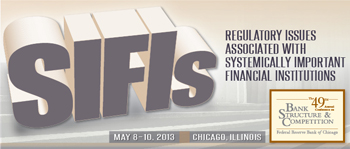 May 8-10, 2013
Following the recent financial crisis, there were calls to enhance regulatory scrutiny and pursue increased stability in financial markets. Major portions of the Dodd–Frank Act emphasized financial stability and introduced procedures to achieve it through new macroprudential regulation—looking beyond the behavior of individual firms and accounting for systemic risk, knock-on effects, contagion and firm interconnectedness. To address financial stability, Dodd–Frank created the Financial Stability Oversight Council (FSOC), a collaborative body that brings together the expertise of various financial regulators and has collective accountability for identifying risks and responding to emerging threats to financial stability. One of its most important tools is the ability to designate firms as "systemically important financial institutions" (SIFIs)—firms whose behavior or stress/failure could potentially threaten market stability. Such firms will be regulated more stringently than other financial institutions with respect to capital, liquidity, leverage, debt limits, disclosures and risk management. Financial market utilities, such as payment, clearing and settlement services, may also be designated as systemically important by FSOC.
Efforts to identify and regulate systemically important institutions and market activities are considered by many to be the most important aspect of recent financial regulatory reform. How does the designation process work? How differentiated will regulatory scrutiny be for SIFIs? What restrictions and requirements will be imposed on financial market utilities, such as payment and settlement systems? What effect will new restrictions have on firm and market behavior and competitiveness? What effects will the SIFI designation have on the ease or difficulty of resolving these institutions should they encounter problems?
To address these and related issues, we brought together an impressive group of industry leaders, scholars and regulatory authorities.
Conference Highlights
Ben S. Bernanke, Chairman, Board of Governors of the Federal Reserve System

Thomas J. Curry, Comptroller of the Currency

Edward DeMarco, Acting Director, Federal Housing Finance Agency

William M. Isaac, Chairman of the Board of Directors, Fifth Third Bancorp

Panel of Industry Experts Addressing Regulatory issues associated with SIFIs
Information will be updated on this website as it becomes available. Receptions and luncheons will be provided. For additional conference information, contact Ella Dukes at (312) 322-5757 and e-mail or Sandy Schneider at (312) 322-8203 and e-mail.