Economic Boot Camp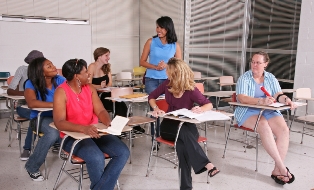 Save the Date!
June 26-27, 2013
If you teach economics, please join us at this boot camp, co-sponsored with the Michigan Council on Economic Education, where you will learn about personal finance, the Federal Reserve, the European Union and economics.
Scheduled Topics (subject to change):
June 26 (Personal Finance)
Best Practices Panel, Personal Finance & the Common Core, Online Resources including GenIRevolution.org, the Stock Market Game
June 27 (Economics)
Federal Reserve Policy Statement Interpretation (FedSpeak 101), Learn More About the European Union, A History Lesson on Great Depression Economics, Best Practices Panel
If you decide to attend, we recommend that you bring a laptop computer if you have one so you'll be able to engage in some of the activities. It isn't required that you bring a laptop as we'll have extras available from those who are unable to bring one.
The event includes a free buffet lunch both days, tours and presentations. Registration is open and available on a first-come, first-served basis. Educators are allowed to bring one guest.
Education Credits Available
10 SCECH offered through MCEE, and you may register for one day equaling 5 SB-CEU for $10 or both days for a total of 10 SCECH for $15 to be paid to MCEE on the first day you attend Boot Camp.
Wednesday, 06/26/13
9:00 AM
Personal Finance Day
Welcome
9:15 AM
Financial Literacy Standards and the Common Core
Bonnie&nbspMeszaros
,
Associate Director, Center for Economic Education and Entrepreneurship
,
University of Delaware
11:00 AM
Best Practices Panel
Panelists
Amy&nbspBroekhuizen
,
Teacher
,
Kentwood Schools
Kathie&nbspBeck
,
Teacher
,
Holland Schools
12:45 PM
Online Personal Finance Resources
Lois&nbspGibbons
,
Michigan JumpStart
Glenna&nbspFritz
,
Michigan JumpStart
2:15 PM
Stock Market Game Tutorial
Ekaterini&nbspChrisopoulos-Vergos
,
Michigan Council on Economic Education
Thursday, 06/27/13
9:05 AM
An Introduction to Federal Reserve Publications
Martin&nbspLavelle
,
Senior Associate Economist
,
Federal Reserve Bank of Chicago – Detroit Branch
Dan&nbspWassmann
,
Communications Manager
,
Federal Reserve Bank of Chicago
10:00 AM
Learn More about the European Union
Valerie&nbspRouxel-Laxton
,
Head of Economic and Financial Section
,
Delegation of the European Union to the United States
11:15 AM
Best Practices
Panelists
Kathryn&nbspGustafson
,
Teacher
,
Farmington Schools
Emily&nbspTruscott
,
Teacher
,
International Schools – Troy
Scott&nbspWarrow
,
Teacher
,
Birmingham Schools
1:00 PM
The Great Depression
Barb&nbspFlowers
,
Federal Reserve Bank of St. Louis
Hotel and Local Area Information
Atheneum Hotel
1000 Brush Ave
(313) 962-2323
Please contact hotel for information on available rates.