Cedar Rapids: An Industrial City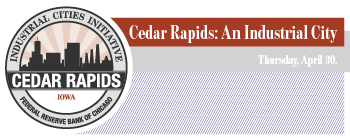 The Federal Reserve Bank of Chicago and the City of Cedar Rapids invite you to participate in Cedar Rapids: An Industrial City. The purpose of the event is to highlight how the diversification of Cedar Rapids' economy is achieved through a judicious assembly of economic development and workforce development strategies.
There will be a presentation by Jeremiah Boyle, who spearheaded the Federal Reserve Bank of Chicago's Industrial Cities Initiative (ICI). The ICI profiled 10 "industrial cities" in a five state region, including Cedar Rapids. At the meeting, you will be introduced to a profile of Cedar Rapids that highlights the importance of regional workforce development responses to business needs. In addition, Kim Johnson Becicka from Kirkwood Community College (KCC) will describe how the region's workforce efforts are grounded in its diverse local economies. These strategies, which are integral to KCC's mission, are deployed through Iowa's Creative Corridor's Regional Workforce Development Plan.
Seating is limited and pre-registration is required. Late registrants will be placed on a wait list for possible cancellations. Please register by Thursday, April 23, 2015.