Navigating Pension Reform in Illinois: What Lies Ahead?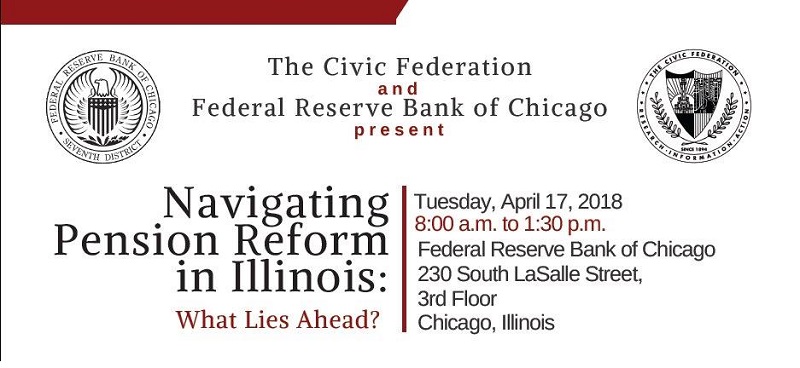 The Civic Federation is pleased to partner with the Federal Reserve Bank of Chicago to co-host "Navigating Pension Reform in Illinois: What Lies Ahead?" on Tuesday, April 17, 2018.
The purpose of this half-day forum is to examine the options available to the State of Illinois as it attempts to address its ongoing fiscal crisis, precipitated in large part by its severely underfunded public pensions. The panels at the conference will look at the experiences of other states as they have worked to address their own public pension difficulties and explore several of the suggested paths forward, from finding a revenue source sufficient to simply fund the obligation to changing the Illinois Constitution.
If you can't join us in person, follow the conversation on Twitter with the hashtag #NavigatingPensionReform.
Tuesday, 04/17/18
7:30 AM
Registration and Continental Breakfast
8:00 AM
Welcome
William&nbspTesta
,
Vice President
,
Federal Reserve Bank of Chicago
8:05 AM
Introducing the Kearney Center for Public Pensions
Lew&nbspCollens
,
Chairman, Kearney Center Board of Directors, President Emeritus, Illinois Institute of Technology
8:15 AM
Illinois Public Pensions 101
Sarah&nbspWetmore
,
Vice President and Research Director
,
Civic Federation
9:00 AM
Panel 1 – Pension Reform Successes in Other States
Illinois is not unique in facing pension challenges--across the United States, governments have struggled to meet obligations. Speakers will discuss how pension and retiree healthcare reform was implemented and litigated in other states. What were the lessons learned and how can they be applied in Illinois?
Moderator
Lois&nbspScott
,
Epoch Advisors
Panelists
The Honorable Kasim&nbspReed
,
Former Mayor of Atlanta, Georgia
Bryan&nbspJeffries
,
President
,
Professional Fire Fighters of Arizonia
Carol&nbspO'Cleireacain
,
Former Deputy Mayor
,
City of Detroit
10:45 AM
Panel 2 – What Are the Options if Pension Liabilities Cannot be Changed?
In the aftermath of the 2015 Illinois Supreme Court decision striking down pension benefit reforms for state workers and retirees, many proposals have been made as to the next steps Illinois and local governments should take to address the pension crisis. Panelists will discuss some of the those proposals, including finding sufficient revenue to fund the obligations, shifting payment obligations to local governments and amending the state constitution.
Moderator
The Honorable Elaine&nbspNekritz
,
Former Illinois State Representative
Panelists
Tracy&nbspGordon
,
Senior Fellow
,
Urban Institute
James&nbspSpiotto
,
Managing Director
,
Chapman Strategic Advisors
Eric&nbspMadiar
,
Principal
,
Madiar Government Relations
Rick&nbspMattoon
,
Senior Economist
,
Federal Reserve Bank of Chicago
Jeffrey&nbspJohnson
,
President
,
Municipal Employees' Annuity and Benefit Fund of Chicago
12:15 PM
Luncheon and Keynote Panel
Rough Seas Ahead: What are the Obstacles to Resolving the Pension Crisis?
Moderator
Lew&nbspCollens
,
Chairman, Kearney Center Board of Directors, President Emeritus, Illinois Institute of Technology
Panelists
Jim&nbspEdgar
,
Former Governor
,
State of Illinois
The Honorable Elaine&nbspNekritz
,
Former Illinois State Representative
1:30 PM
Adjurn
Laurence&nbspMsall
,
President
,
Civic Federation