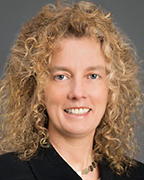 Michelle Behrenwald
Vice Chair and Co-owner, AIS Construction Equipment Corp.
Michelle Behrenwald is the vice chair and co-owner of AIS Construction Equipment Corp. She also is a member of the Board of Directors of Michigan Agricultural Commodities, which is Michigan's largest grain handler, with locations throughout Michigan and Ontario Canada. Her agricultural roots run deep, growing up on the family farm, and in the family businesses, she was immersed in various operations focused on agriculture, construction and farming.
Prior to returning to AIS and MAC, Behrenwald was the vice president of Global Services for Herman Miller Inc. Her professional career started with Andersen Worldwide, where she became licensed as a CPA and led the Michigan Financial Business Services Operational Consulting Team, which assisted both publically and privately held clients of all sizes in strategy and operational excellence. She graduated from Hillsdale College, earned a master's degree in communications, and is a trained auctioneer. She is actively engaged in Kent Technical, Guiding Light Mission, Fair housing Center of West Michigan, and the Center for Community Leadership. Behrenwald is a member of the Michigan Auctioneers Association, American Management Association, MACPA and AICPA.