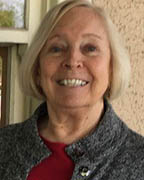 Kathy Cobb is a freelance editor/writer who also works occasionally with the Federal Reserve Bank of Minneapolis, where she was previously on staff as an editor and writer for more than 24 years.
Prior to joining the Fed family, Kathy worked for two encyclopedias (Chicago and London), an educational publisher, and the University of Wisconsin–Milwaukee.
Kathy has a bachelor's degree in English Literature from Marquette University.
Chicago Fed Insights Blog