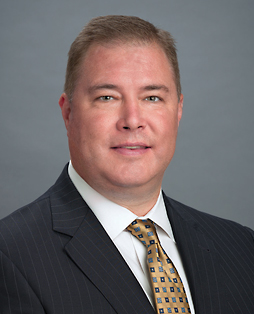 Michael J. Hoppe
Senior Vice President, Executive Committee Member and Detroit Branch Manager
Michael Hoppe is a Senior Vice President, Executive Committee Member and the Detroit Branch Manager. He also has responsibility for Seventh District Cash Operations, Law Enforcement, Facilities and Hospitality Services. From January 1, 2016 to 2017, he was the Senior Vice President responsible for sales, marketing, communications and market research in the Customer Relations and Support Office. Prior to that, he served as the retail payments office Senior Vice President, leading check and ACH product development for the Federal Reserve Banks.

Hoppe began his career with the Federal Reserve Bank of Chicago in 1988. His tenure with the Federal Reserve has encompassed multiple areas of management responsibility to include operations, customer support, business development, national sales and internal support functions. Hoppe was promoted to Assistant Vice President responsible for the Milwaukee Office in 1998. He was promoted to Vice President in 2001 with additional responsibilities for Seventh District business development, product development and customer support. He was promoted to Senior Vice President in 2014.

Hoppe holds a B.S. degree from the University of Wisconsin-Whitewater and certifications from the University of Wisconsin - Graduate School of Banking and Vanderbilt - Operations and Technology.