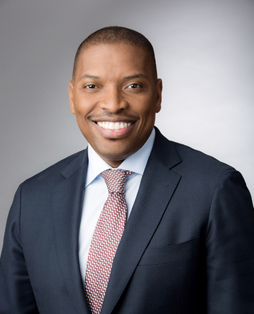 Maurice Smith
Class C Director, Term: 2023-2025
President, CEO and Vice Chair
Health Care Service Corporation (HCSC)
Chicago, Illinois
Maurice Smith is president, CEO, and vice chair of Health Care Service Corporation (HCSC). As the largest customer-owned health insurance company in the U.S., HCSC serves over 17.6 million members, generates over $54 billion of annual revenue, and manages over $110 billion of medical spend annually. The company operates the Blue Cross and Blue Shield® Plans in Illinois, Montana, New Mexico, Oklahoma and Texas. Through several affiliates and subsidiaries, HCSC offers a range of products and services including dental, vision, life, and disability benefits; third party administration solutions; and pharmacy benefits management.
Smith is responsible for HCSC's overall strategic direction and performance and leading the company's 45,000 direct and contracted employees. Elected CEO in June 2020, Maurice has led HCSC through the COVID-19 pandemic, driven strong revenue and earnings, enhanced the company's information technology platform, and steered the company through an ever-evolving industry and strategic landscape and important growth initiatives, including the recent acquisition of Health Benefits and the doubling of its Medicare Advantage geographic footprint.
Under Smith's leadership, HCSC has continued to address the social determinants of health and adopted a root-cause approach to improving the U.S. healthcare system. HCSC's Blue Door Neighborhood Centers exemplify his commitment to community, with health and wellness programming offered in partnership with local not-for-profits and providers, as well as significant job creation investments.
Smith is a national leader in healthcare with over 30 years of experience across finance, strategy, operations and stakeholder relations. Prior to becoming CEO, he was promoted regularly to positions of increasing responsibility across a range of functions and roles, including leading several large financial and business development functions and serving as President of Blue Cross Blue Shield of Illinois.
Smith holds an MBA from Pepperdine University and a BA in business administration from Roosevelt University. He is on the boards of Ventas, the Art Institute of Chicago, and the Corporate Coalition. He is chairman of the boards of Prime Therapeutics LLC and Roosevelt University.