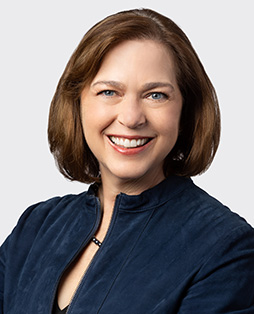 Jennifer Scanlon
Class C, Chair, 2022-2023
President & Chief Executive Officer
UL Solutions
Northbrook, IL
Jennifer F. Scanlon is President and CEO of UL Solutions Inc. With a deep foundation in and commitment to science, technology and engineering, Jennifer leads UL Solutions in its ambition to become our customers' most trusted safety, security and sustainability partner.
Prior to becoming CEO in September 2019, she served as president and CEO of USG Corporation, which manufactures innovative building products. During her 16 years at USG, she also served as CIO and head of Corporate Strategy. She led the company through a major international expansion, transformed the role of technology in driving operational efficiency and customer satisfaction, and invested in research to develop sustainable building materials. She began her career at IBM in service delivery and consulting roles.
Scanlon advocates fiercely for STEM education. She also dedicates herself to increasing diversity in the science, technology, engineering, and math fields, enabling greater organizational diversity, and improving organizations' ability to fully meet the needs of a diverse global stakeholder base.
Scanlon serves on the board of Norfolk Southern Corporation and the board and executive committee of the Chicago Council on Global Affairs. She is chairperson of the Civic Committee of the Commercial Club of Chicago and chair of the Federal Reserve Bank of Chicago's Board of Directors. She is the Secretary Treasurer of the Board of the US-China Business Council and appointed to the US-India CEO Forum. Scanlon is a member of the University of Notre Dame Board of Trustees, the Chicago Network and the Economic Club of Chicago.
She holds a Master of Business Administration from the University of Chicago Booth School of Business and dual degrees in government and computer applications from the University of Notre Dame.