Seventh District Foreclosure Update
Recently, the news media have been discussing an uptick in the housing market. We document some of the positive effects we have seen in the Seventh District in a series of Foreclosure Graphs, shown here and available on our Foreclosure Resource Center website.
Start rates, which measure the pace at which homes enter foreclosure, have come down significantly. This is a positive for the housing market, since it implies less deterioration in the ability of homeowners to meet their mortgage obligations for reasons such as job loss, inability to borrow against home equity due to falling home prices, or rising loan payments.
Transition rates, which measure the pace at which foreclosures get resolved, are up.
Finally, the inventory rate, which reflects the proportion of mortgages currently in foreclosure, is decreasing.
1. Cook County, Illinois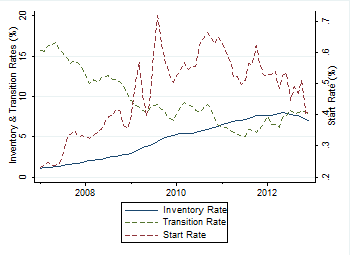 2. Milwaukee County, Wisconsin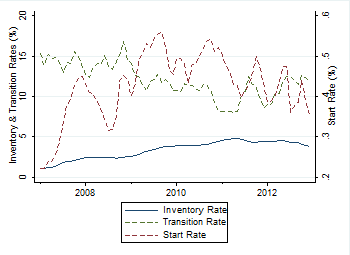 3. Marion County, Indiana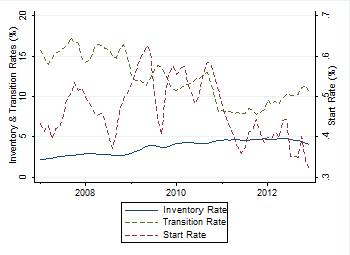 4. Wayne County, Michigan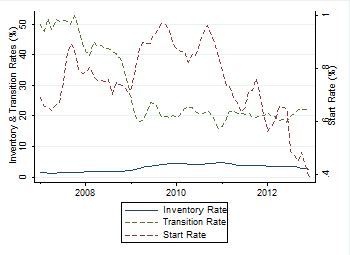 5. Polk County, Iowa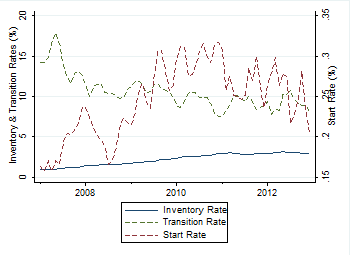 The views expressed in this post are our own and do not reflect those of the Federal Reserve Bank of Chicago or the Federal Reserve System.