An Innovative Mortgage Product for Detroit Homebuyers Enters the Market
In a recent article, Community Development and Policy Studies (CDPS) highlighted mortgage innovations serving low- and moderate-income (LMI) potential homebuyers. While Detroit has shown promising signs of an economic comeback, its housing market continues to struggle with a high number of blighted and vacant properties, and very limited mortgage lending activity. This blog summarizes a recently introduced intervention, Detroit Home Mortgage (DHM), which is designed to boost the supply of credit for purchasing and rehabilitating housing in need of repair.
Residential mortgage lending is all but nonexistent in Detroit, with an annual average of just 356 new purchase mortgages from 2009 to 2014, compared to an annual average of 6,103 new mortgages from 2004 to 2008, according to Home Mortgage Disclosure Act data1. Cash transactions account for the vast majority of residential real estate sales, many of which involve corporate investors and municipal entities such as the city's land bank.
1. New purchase mortgages in Detroit (number of mortgages)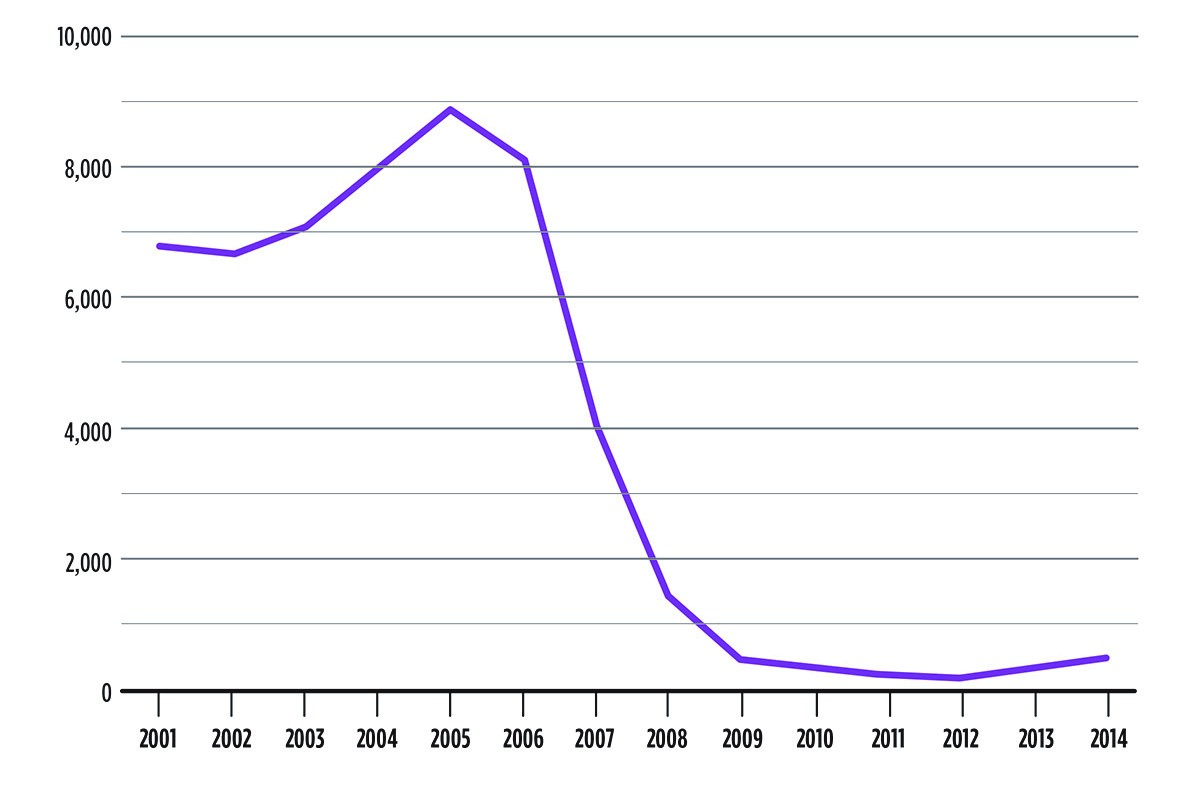 Source: Tabulation of Home Mortgage Disclosure Act by authors.
Note: Includes first-lien purchase loans for owner-occupied, 1-4 unit properties in the city of Detroit. 2001-2003 records do not contain lien information. In 2004, second liens comprised 10 percent of all purchase loans for owner-occupied 1-4 unit properties in Detroit.
The decline in lending is not unique to Detroit. Credit standards nationwide remain very tight relative to the early 2000s, but the state of Detroit's housing stock make it particularly affected. For example, access to loans for low-cost housing has been especially limited, an issue for a city where the average home sale price was less than $40,000 in each month of 2015, according to Urban Institute calculations from CoreLogic data. Furthermore, Detroit leads the nation in its proportion of vacant properties, many in need of repair. The Motor City Mapping project's 2014 survey found that roughly 1 in 3 residential or commercial properties was blighted, including 73,035 residential structures. The many properties requiring rehabilitation and high vacancy rates mean home values are very low, which in turn has made credit tighter where it is most needed: 80 percent of applications for home-improvement loans in Detroit from 2009 to 2013 were denied due to insufficient collateral, according to a Zillow analysis of records released under the Home Mortgage Disclosure Act. In other words, the cost of repair most often exceeds a home's appraised value, creating a vicious cycle that further reduces home values. "The appraised values are based on a decimated housing stock," says Colleen Schwarz, vice president of Affordable Housing Lending at Community Reinvestment Fund, USA (CRF), a nonprofit Community Development Financial Institution (CDFI) lender participating in the program.
Existing programs meant to provide credit for rehabilitating homes, such as the Federal Housing Administration's (FHA) 203(k) insurance program, have gained little traction in Detroit due to the sheer scale and degree(s) of vacancy and disrepair. FHA 203(k), for instance, cannot insure a loan of greater than 110 percent of property value. For a home in disrepair that appraises at $50,000, this limit translates to a $55,000 budget for acquisition and repair2 , often far below what is needed homes which sat vacant for years, experiencing vandalism and deterioration.
With these challenges in mind, DHM's collaborative partners designed a program that could sustainably extend credit to homebuyers to purchase and rehabilitate properties with depressed values and high repair costs. Eligible buyers include prospective owner-occupants who can meet credit history standards similar to those of an FHA loan, such as a minimum 3.5 percent down payment, mortgage payment expense to gross income ratio of 31 percent, and total credit obligation payments to gross income ratio of 43 percent. In essence, DHM provides financing to FHA conforming borrowers with non-FHA conforming properties. Five participating lenders in the Detroit area will provide loans for buyers to purchase the property, while CRF makes a second loan that covers the projected rehabilitation costs, and a roughly 15-20 percent contingency allowance. The second loan balance also covers the cost of a project manager to support the buyer in overseeing the rehabilitation. To ensure that buyers are aptly prepared for the potential risks and complications of purchasing a home in need of rehabilitation, buyers must complete special education on high combined (purchase and rehab) loan-to-value (CLTV) home financing and home rehabilitations. The education emphasizes staying within budget by prioritizing safety and livability during the construction process. Given the added complexity of DHM relative to a typical lending program, Schwarz believes that CRF's significant experience in loan servicing and program management will be a key component of the program.
Launched in February of 2016, DHM is already working with prospective borrowers and hopes to close loans within the next 60 days, according to Schwarz. Initial interest has been high and the program has been advertised aggressively across the city. Not surprisingly, the time needed to approve an applicant and close their loan is longer than a typical loan due to some unique features of DHM, such as estimating construction costs and required borrower counseling. The process of rehabbing a home may be daunting to a perspective homebuyer, Schwarz said, but there are no other viable financing options that allow loan principal to exceed appraised value by up to $75,000 to make needed repairs, let alone one that provides education and construction support. Five lenders are participating in the program, and while they must retain the first mortgages in portfolio, they may stand to gain in the long-term from a healthier housing market and from potential CRA credit for serving low- and moderate-income communities. Funding from the Kresge Foundation supports operating costs, credit enhancement, and helps to allow a hardship exemption for borrowers facing an unexpected job loss. This means that in the case of life events (death of the borrower, divorce, major medical issues) that reduce family income, necessitating a sale, the CRF second mortgage may be forgiven.
If successful, DHM may serve as a model intervention for other cities struggling with a dilapidated housing stock and limited access to mortgage credit.
CDPS is committed to researching and understanding new innovations in mortgage lending as they emerge, and to encouraging dialogue among policymakers, community groups, action coalitions, and financial institutions working to improve access to residential mortgage credit.
Footnotes
1 These figures include only owner-occupied, 1-4 unit, first lien, purchase originations.
2 This total assumes a sale price equal to the appraised value of the home.
The views expressed in this post are our own and do not reflect those of the Federal Reserve Bank of Chicago or the Federal Reserve System.