U.S. Auto Industry Continues to Improve in Line with the Automotive Outlook Symposium Consensus Forecast
The Federal Reserve Bank of Chicago held its 20th annual Automotive Outlook Symposium (AOS) on May 30–31, 2013, at its Detroit Branch. Just a few days following the conference, light vehicle sales (i.e., car and light truck sales) for May were reported to be 15.2 million units at a seasonally adjusted annual rate. This selling rate was 9.6% higher than May 2012's selling rate and was consistent with the AOS consensus forecast for 2013. As in past years, certain AOS participants were asked to submit their forecasts of gross domestic product (GDP) and related items, including, of course, light vehicles sales, ahead of the gathering. William Strauss, senior economist and economic advisor for the Federal Reserve Bank of Chicago, hosted the event and presented the consensus outlook. Table 1 shows the median forecast for some of the items.
Table 1. Median Forecast of GDP and related items
Actual
Forecast
2012
2013
2014
Real GDP - chained dollars*
1.7%
2.2%
2.6%
GDP Price Index, chain-type*
1.8%
1.3%
1.7%
Industrial Protection*
2.8%
3.2%
2.9%
Inflation Rate - CPI*
1.9%
1.8%
2.0%
Unemployment Rate**
7.8%
7.3%
6.9%
Oil Price - WTI**
$88.16
$92.96
$93.50
Housing Starts***
0.78
1.02
1.17
Car & Light Truck Sales***
14.4
15.3
15.8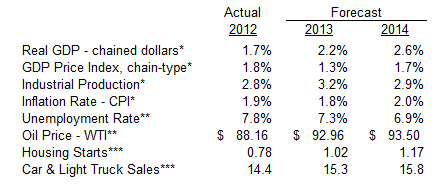 * Annual Q4 over Q4
** Annuals are Q4 value
*** Annuals are yearly average in millions
Auto industry experts discussed a number of topics during this year's two-day conference, and a few of them made formal presentations. Speakers provided a light vehicle sales outlook, a medium- and heavy-duty truck industry outlook, and automotive industry outlooks from the perspectives of the automotive parts suppliers and dealers. In addition to the economic and automotive outlooks, two speakers presented their research on financing the infrastructure necessary to support alternative fuel vehicles (i.e., vehicles running on compressed natural gas, ethanol, electricity, and hydrogen). To see a complete list of this year's AOS speakers, as well as most of their presentations, go to the event page.
Of special note was a discussion on Mexico's emergence as a global player in automotive production, which was held on the first day of the event. David Andrea, senior vice president, industry analysis and economics, for the Original Equipment Suppliers Association (OESA), presided over a panel of experts on Mexico's growing role in North American automotive production and global automotive trade.
Chart 1 shows how automotive manufacturing capacity has grown consistently in Mexico since 2005, with the exception of a slight setback due to the 2008–09 recession. In contrast, over the period 2005–13, automotive manufacturing capacity for the United States and Canada combined fell by 21.6%. Given these two contrasting trends, it is not surprising that Mexico's share of all light vehicles produced in North America was 19% in 2012—which was higher than Canada's share (16%). By comparison, in 1990, only 6% of all light vehicles produced in North America were assembled in Mexico (versus Canada's 16% share of production back then). So, clearly, automotive production in Mexico has taken great strides over the past two decades. In fact, Mexico has moved ahead of Canada in terms of the number of vehicles produced on an annual basis.
Chart 1. North American capacity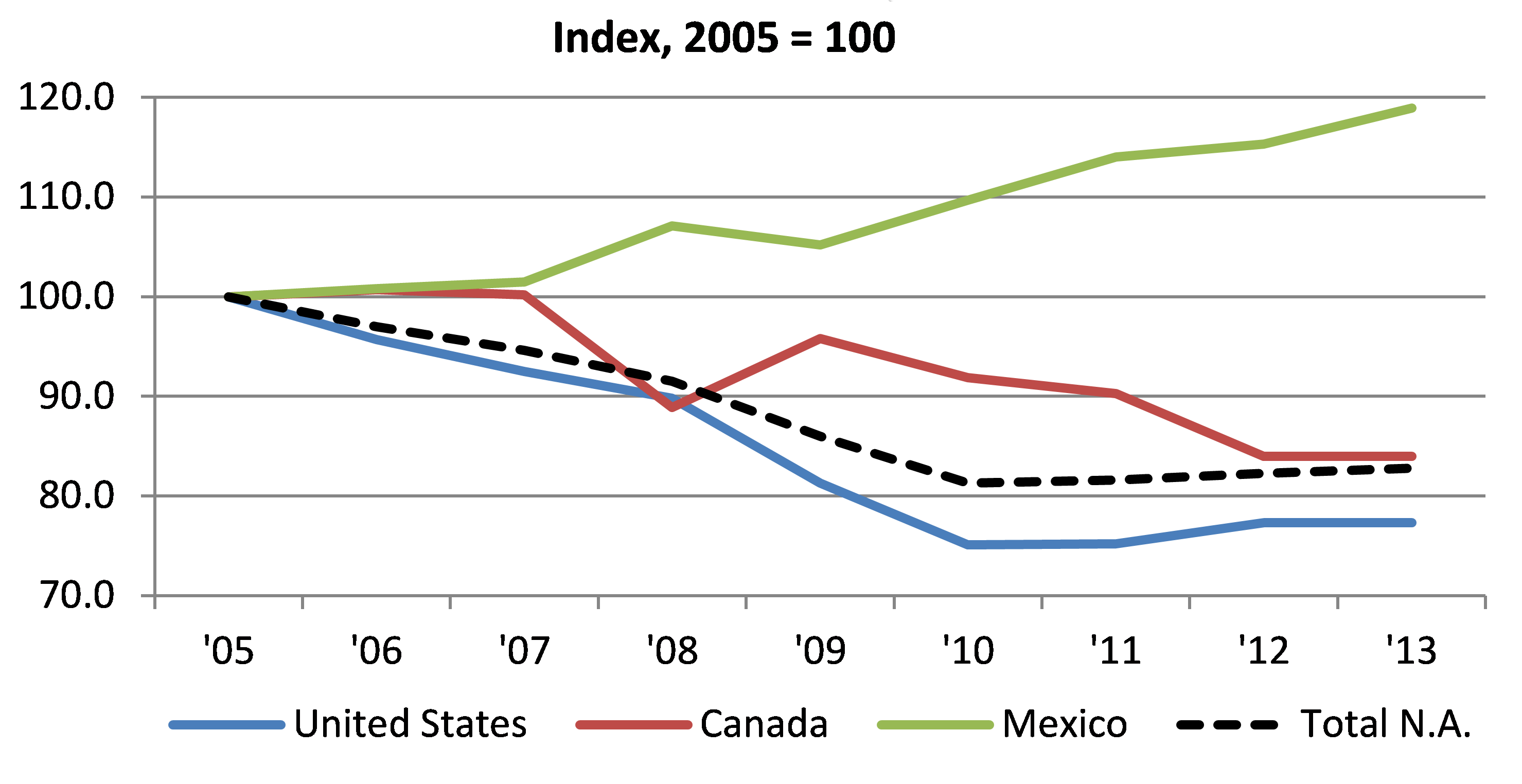 Source: WardsAuto
According to projections by WardsAuto, in the years ahead Mexico will be getting most of the additional North American automotive production capacity that is planned (see Chart 2). In total, automotive manufacturing capacity for North America is projected to rise about 4.4% between 2013 and 2018, while automotive manufacturing capacity for Mexico is expected to increase by over 26.0%.
Chart 2. North American capacity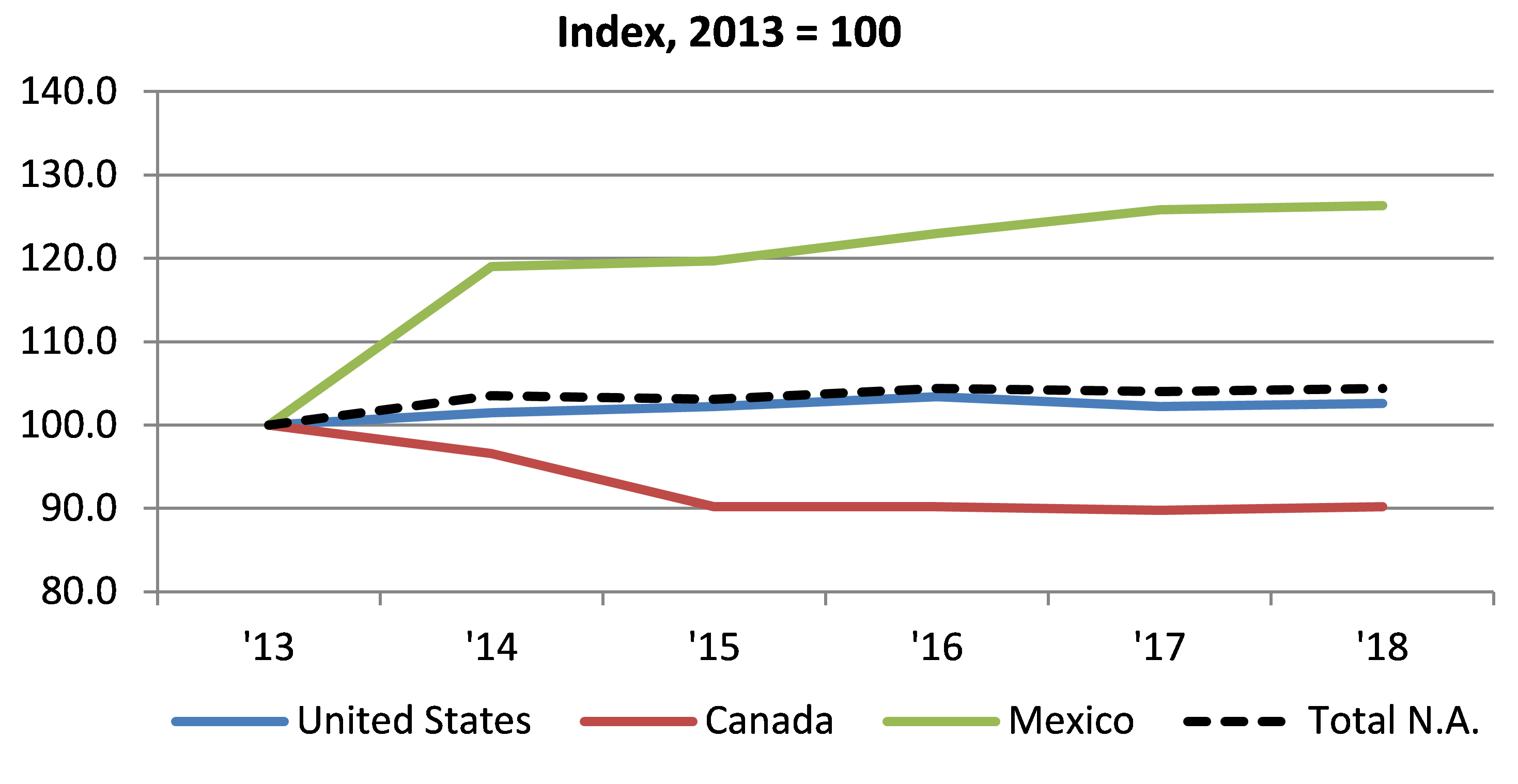 Source: WardsAuto
The panel of experts that Andrea presided over at the AOS shared their analyses about Mexico's growing importance to the North American automotive industry, which were in line with the WardsAuto data. For instance, Bill Cook, director of worldwide transportation and customs for Chrysler Group LLC, said that Mexico's percentage of Chrysler's total vehicle production increased over 280% from the start of negotiations for the North American Free Trade Agreement (NAFTA) in 1985 through 2012. (Of course, Mexico's share of Chrysler's overall vehicle production experienced its biggest gains after NAFTA was implemented in 1994.) Other topics discussed by the panel included such issues as Mexico's role in the automotive supply chain and product and parts logistics. Thomas Klier, senior economist for the Federal Reserve Bank of Chicago, was also among this panel of experts; he shared many insights on Mexico's growing role in the North American auto industry, which are reflected in a recent Midwest Economy blog entry and Chicago Fed Letter.
The views expressed in this post are our own and do not reflect those of the Federal Reserve Bank of Chicago or the Federal Reserve System.