What is Canada's Role in the U.S. and Michigan Economies?
In the wake of the worst recession the world has seen in many decades, Canada continues to play an important role in the economic recoveries of both the United States and Michigan. Canada has long been one of this country's biggest trading partners. The chart below shows how U.S. trade with Canada has grown over the years. Although Canada's total share of U.S. goods trade has fallen slightly over the past 20 years, the dollar value of that trade has grown by more than 250%.
1. U.S. Goods Trade with Canada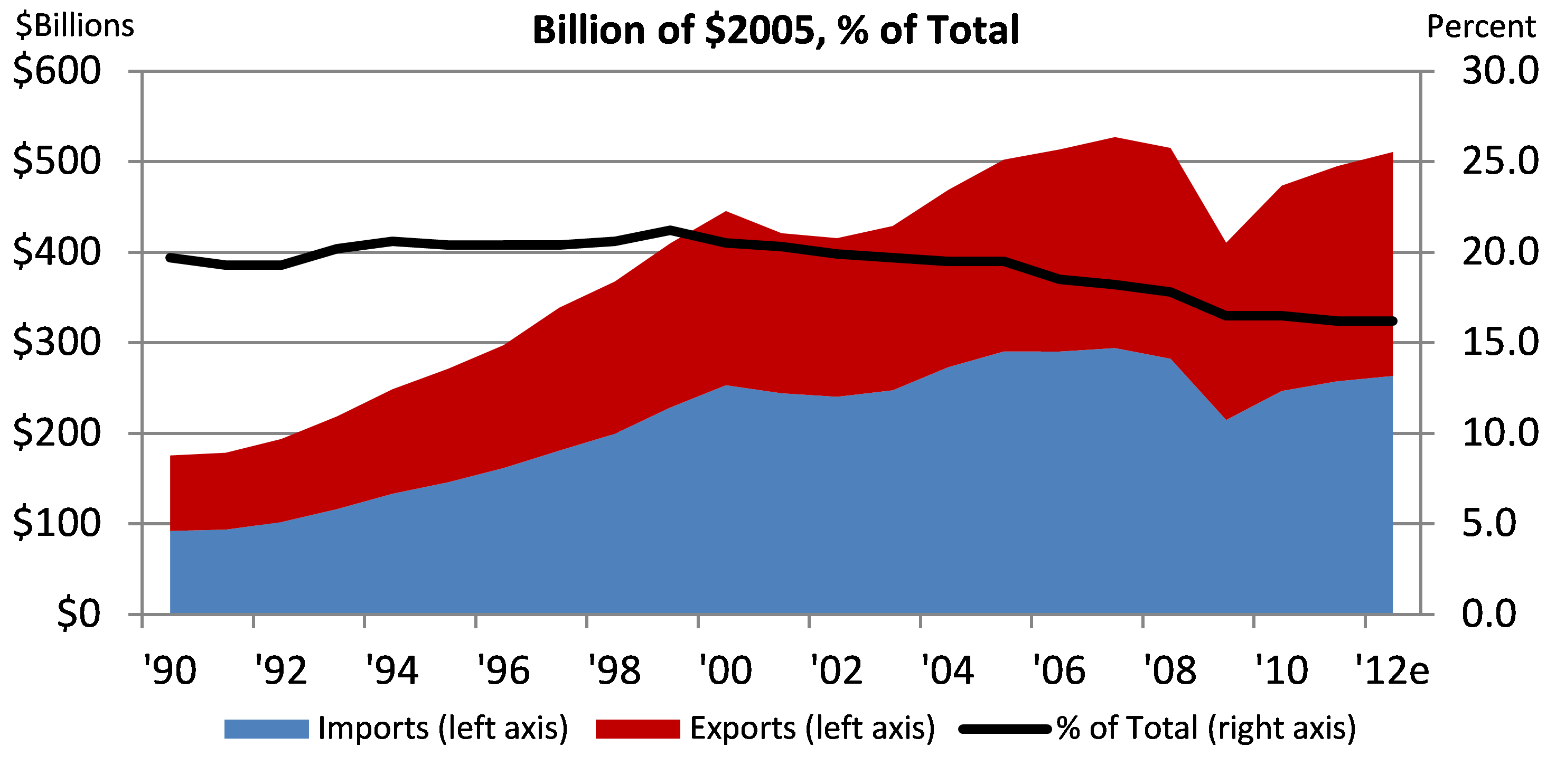 Source: Author's calculations based on data from U.S. Census and the U.S. BEA.
Even though trade between the U.S. and Canada declined sharply following the 2008 recession, Canada was able to hold on to the bulk of its share of total U.S. goods trade. The charts below display the shares of imports and exports for the United States' top five trading partners since 2007. They show that Canada's share of total U.S. trade of goods has remained relatively constant since 2007, accounting for approximately 14.2% of U.S. imports and 19.1% of U.S. exports in 2012. Moreover, as seen in the charts, Canada has maintained its position as our largest export partner and second largest import partner throughout the recession and through this point in the recovery.
2. U.S. Imports of Goods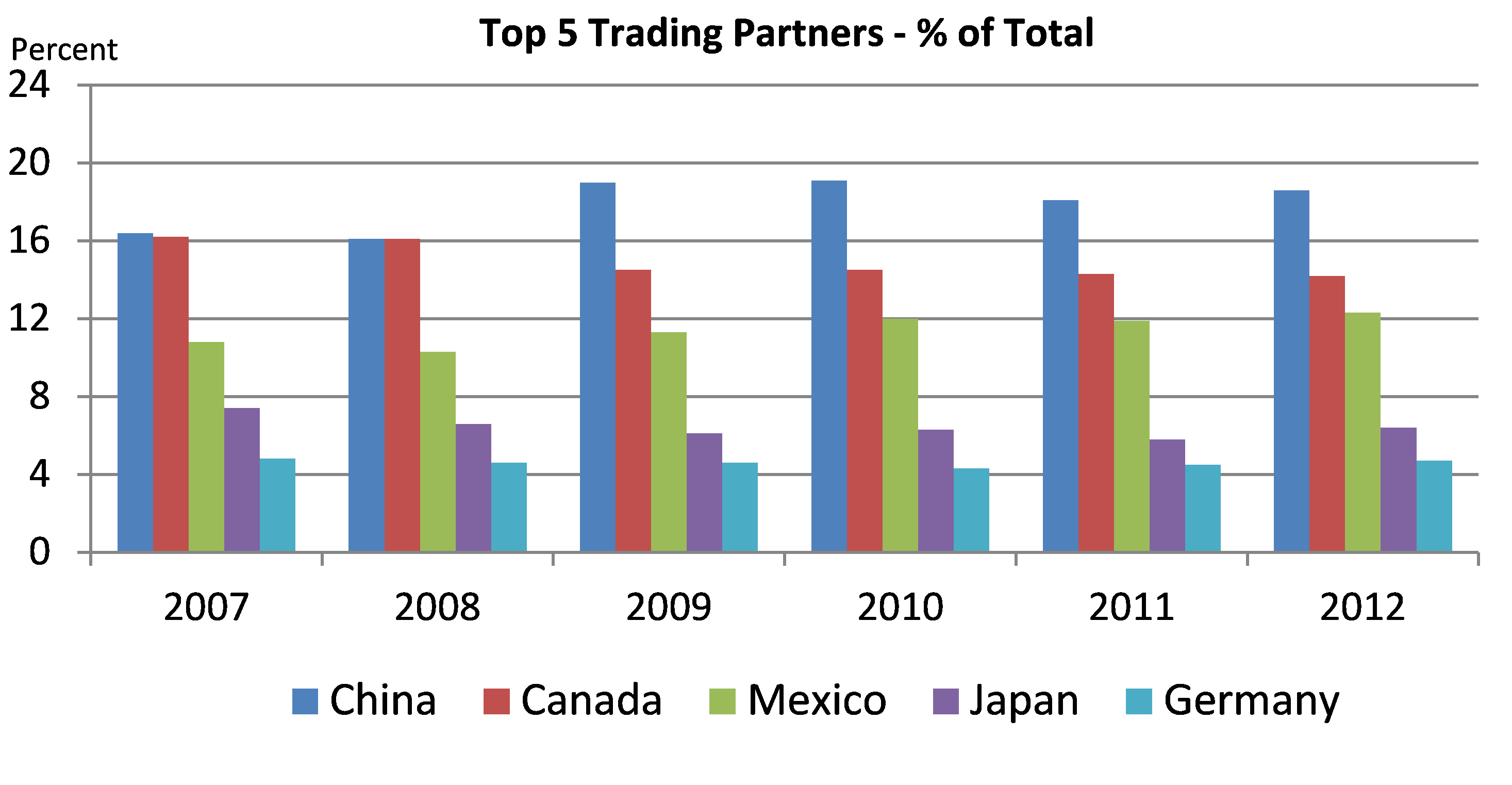 Source: Author's calculations based on data from U.S. Census Bureau.
3. U.S. Exports of Goods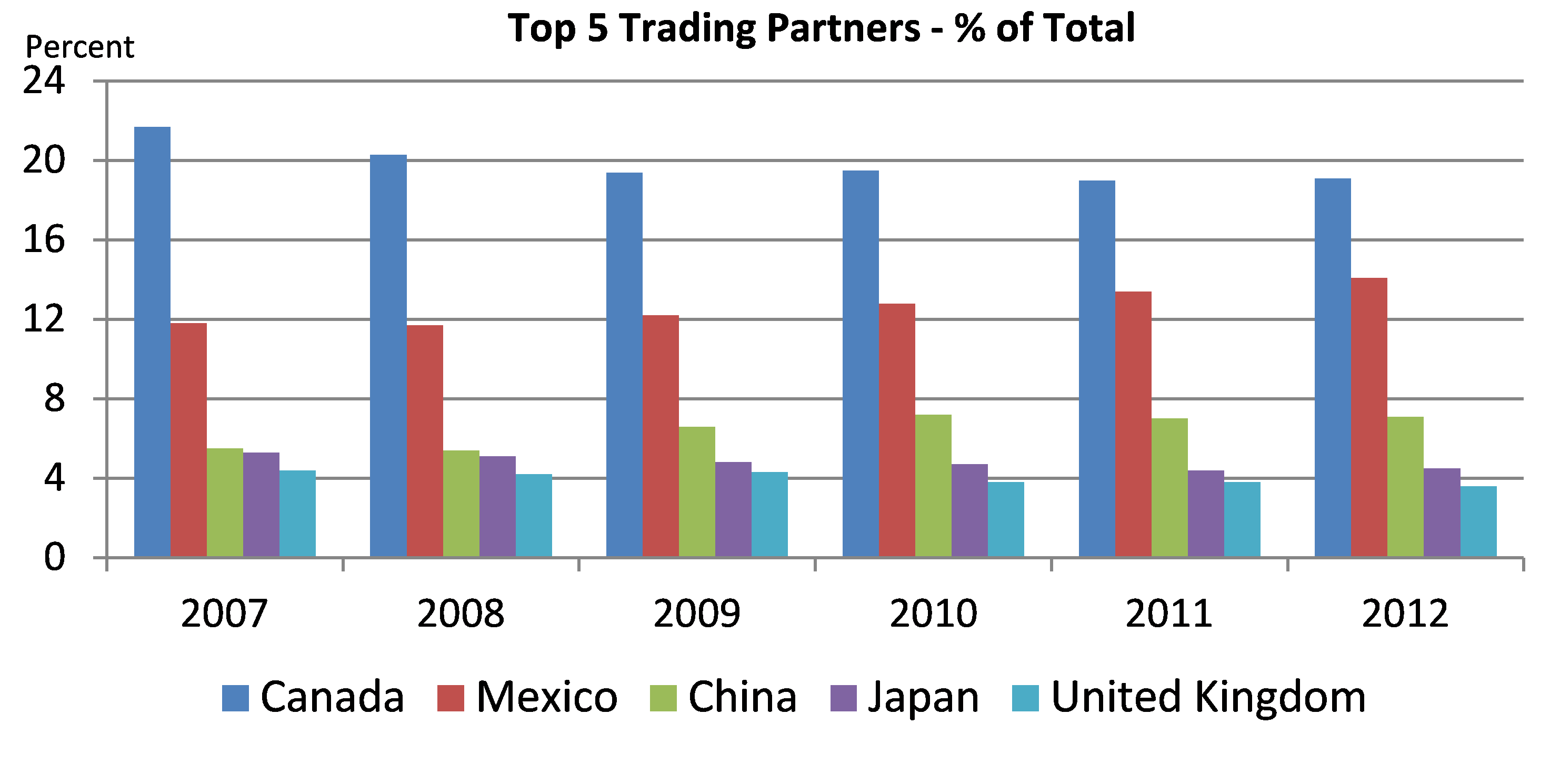 Source: Author's calculations based on data from U.S. Census Bureau.
Additionally, when it comes to Michigan's economy, the importance of Canadian trade is just as large if not greater. According to my calculations using data from the U.S. Census Bureau, Canada ranks number one for Michigan in terms of both imports and exports. In fact, 44.7% of Michigan's imports in 2011 came from Canada. At $46.7 billion, the value of Canadian imports to Michigan in 2011 was up 14.6% relative to 2010. As for exports from Michigan to Canada, the story is very much the same. In 2011 Michigan exported $23.6 billion in goods to Canada—up 6.7% relative to 2010. Since most of the import and export goods pertain to the auto industry, it only stands to reason that these numbers should continue to increase as light vehicle sales continue to improve.
In an effort to provide more insights into this topic, the Canada – United States Business Association (CUSBA) will be holding an event here at the Detroit Branch of the Federal Reserve Bank of Chicago. The event titled Cross-Border Economic Forecast for 2013 will be held here on Friday, February 1, 2013, from 11:30 a.m. to 1:30 p.m. I was pleased to be asked to participate in this event. Joining me on the panel to discuss the 2013 economic outlooks for the United States and Canada will be Martin Schwerdtfeger, senior economist for Toronto-Dominion Bank, and Daniel Howes, associate business editor for the Detroit News (who will serve as the moderator).
The views expressed in this post are our own and do not reflect those of the Federal Reserve Bank of Chicago or the Federal Reserve System.