Where is automotive employment in the Seventh District?
Perhaps the most notable economic development taking place in the Seventh District is the market shift away from the traditional "Big 3" domestic auto makers–General Motors, Ford, and (Daimler)-Chrysler–and their parts suppliers. Lost sales are shifting toward the "new domestics" such as Toyota and Nissan and their parts suppliers. The sales gainers tend to be located outside of the Midwest to a greater degree than the Big 3. This shift is documented and analyzed in a recent Economic Perspectives article by Thomas Klier and Dan McMillen. This market upheaval is tending to idle and displace workers in many Midwest communities. Per Klier and McMillen, Michigan automotive employment is down almost one-third since 1979 while southern states such as Kentucky, Tennessee, Alabama, and the Carolinas have experienced a tripling of jobs.
But despite these shifts, Detroit and much of the Midwest continues to be the center of the production. Which particular communities remain most sensitive to future swings in automotive fortunes? The data below attribute automotive employment to particular metropolitan areas in the Seventh District. Those metropolitan areas with green shading had an employment concentration in automotive that exceeded the nation; those shaded in red had a lesser concentration. Looking across metropolitan areas in the entire Seventh District region, an east-west split in auto employment concentration becomes very apparent. The Michigan-Indiana corridor contains most of the metropolitan areas having an above-average concentration. Darkly-shaded metropolitan areas in southeast Michigan are exceptionally concentrated in automotive. So too, an east-west band of metropolitan areas across north central Indiana is steeped in automotive employment.
Figure 1. 2002 auto industry LQ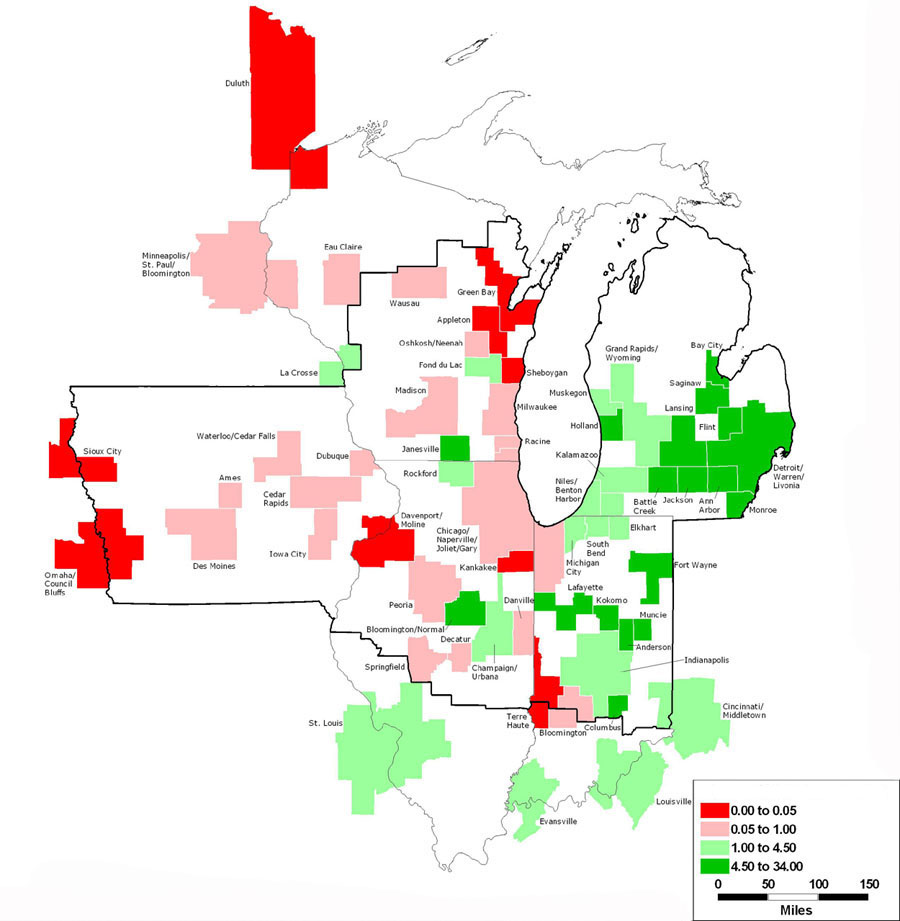 A numerical listing of automotive employment below shows just how concentrated some communities can be. Metropolitan areas including Detroit/Livonia/Deaborn, Flint, Holland, Saginaw, Battle Creek, and Lansing/East Lansing in Michigan all reported concentrations over 5 times the national average, as did the Kokomo and Lafayette metro areas in Indiana.
Table 1. Automotive industry employment in Midwest metro areas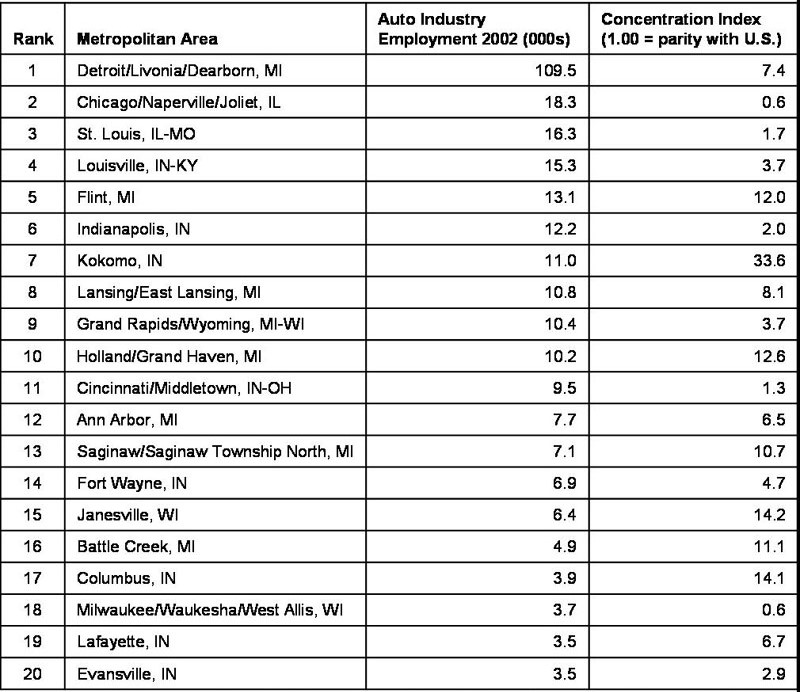 Source: U.S. Department of Commerce, Bureau of the Census, County Business Patterns, and approximated CBP data Northern Illinois University, and author's calculations.
Data cover NAICS codes 3361 and 3363, employees at assembly and parts operations of auto/truck industry.
The final table below further illustrates the sharp geographic rift in employment fortunes over the 1990-2005 period. As a whole, the state of Michigan lost over 64,000 jobs in automotive, on net accounting for all job losses nationally. Largely due to the Michigan experience, the Seventh District states experienced an 18 percent decline in automotive jobs since 1990 while the remainder of the U.S. experienced a 3 percent gain in similar employment.
Table 2. Automotive industry employment — 1990 to 2005

Source: U.S. Department of Labor, Bureau of Labor Statistics, Quarterly Census of Employment and Wages, and author's calculations.
Data cover NAICS codes 3361 and 3363, employees at assembly and parts operations of auto/truck industry.
The views expressed in this post are our own and do not reflect those of the Federal Reserve Bank of Chicago or the Federal Reserve System.