Our Commitment to Supplier Diversity
Featured News
The Federal Reserve System Supplier Diversity Team participated in the 2016 National Minority Supplier Development Council Conference from October 23-26, 2016. They joined representatives from top multinational companies and diverse business owners working to strengthen the involvement of minority firms in the global corporate supply chain. The team also had a chance to meet Secretary of Commerce Penny Pritzker!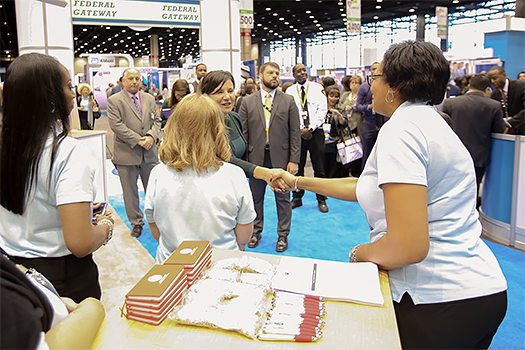 Federal Reserve Supplier Diversity Team greets Secretary Penny Pritzker at their NMSDC booth.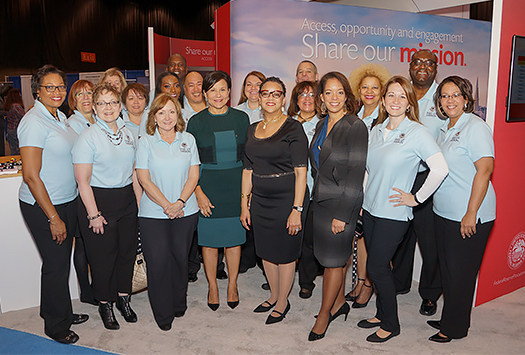 Meet the Federal Reserve Supplier Diversity Team, including Chicago's Mark Hands!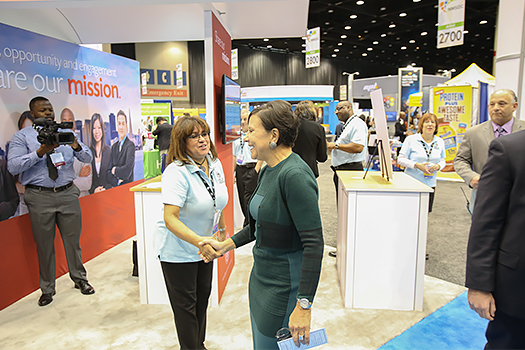 Secretary Penny Pritzker chats with a member of our Supplier Diversity team.
About Us
The Federal Reserve Bank of Chicago supports a diverse and inclusive work environment. This commitment to diversity and inclusion also applies to the Bank's purchases of goods and services. The Bank recognizes the importance of a diverse supplier base and is committed to including minority and women-owned businesses in its procurement program.

The Federal Reserve Bank of Chicago's Supplier Diversity Program is solution-based and business-focused. We are committed to attracting vendors who offer high-quality and competitively priced products and services and who support our procurement and corporate objectives. Our Supplier Diversity Program is a collaborative effort involving the Bank, the communities we serve, and minority- and women-owned business enterprise suppliers (M/WBE). This collaboration provides us with the widest possible selection of highly qualified M/WBE suppliers. In 2011, our Supplier Diversity efforts received "The Outstanding Buyer" award recognition from the Chicago Minority Supplier Development Council.
The Federal Reserve Bank of Chicago's support of diverse suppliers promotes economic opportunities and contributes to the local economies of the Seventh Federal Reserve District, which include most of Michigan, Illinois, Indiana and Wisconsin plus all of Iowa. The Bank's Procurement Services Department carries out the acquisition of goods and services for all the Seventh District.
Policy of Non-Discrimination in Contracting
The Federal Reserve Bank of Chicago carries out its procurement activities based on qualifications and merit and does not discriminate on the basis of race, color, national origin, religion, gender, sexual orientation, age or disability in its contracting and procurement activities.
Outreach
As part of the Bank's commitment to supplier diversity, the Bank participates in supplier fairs, national or local chapters of supplier organizations, and small business and minority- and women-owned small business conferences. The Bank is committed to creating awareness within the community about its procurements and processes.