Our Commitment to Supplier Diversity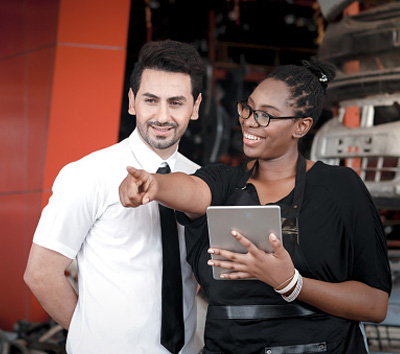 The Federal Reserve Bank of Chicago recognizes the importance of a diverse supplier base and is committed to building meaningful business opportunities for diverse businesses. Accordingly, the Bank has a thorough and robust Supplier Diversity Program strategy that is committed to the fair inclusion of certified diverse businesses owned by minorities, women, veterans, disabled persons, and lesbian, gay, bisexual and/or transgender persons to compete for acquisitions through a competitive bid process.
At the Chicago Fed we embrace Diversity, Equity and Inclusion (DE&I), and we have a deep commitment to creating a culture of inclusion and belonging, and that commitment can be seen across our Bank's vision, values and strategic priorities, as well as within our business line goals and high priority initiatives.
The work we do across the Seventh District is guided by the DE&I Framework that was created in 2018. The Framework focuses on three strategic areas: culture, talent pipeline and community. These areas center on: improving employee engagement; reducing parity gaps in hiring, promoting and retaining talent; and attracting minority & female talent, influencing minority representation in the financial services industry and supporting minority- and women-owned business enterprises.
The Chicago Fed's support of diverse suppliers promotes economic opportunities and contributes to the local economies of the Seventh Federal Reserve District, which consists of Wisconsin, Iowa, Illinois, Indiana and Michigan.
About Our Supplier Diversity Program
Our Supplier Diversity Program is a collaborative effort involving the Bank, the communities we serve and the diverse supplier community, including small businesses. We seek to enhance our partnerships with advocacy groups and chambers of commerce to identify suppliers whose expertise match our organization's needs.
Mark Hands is the Director of Supplier Diversity and Associate Office of Minority and Women Inclusion (OMWI) Director for the Federal Reserve Bank of Chicago. In this role, Mark helps Business Units source quality minority and women-owned business enterprises (M/WBE) suppliers to meet the Bank's operational needs and collaborate with key advocacy groups to provide technical assistance to M/WBE suppliers. As Associate OMWI Director, Mark assists and represents the OMWI Director in planning, directing, coordinating and evaluating the OMWI program functions and initiatives throughout the Bank and the Federal Reserve System. Mark joined the Bank in November 2010 and brings established relationships in the business community and a wealth of experience in increasing opportunities for M/WBEs.
In 2019, our Supplier Diversity efforts received "The Veteran Champion" award recognition from the National Veteran Business Development Council and in 2020 we received the Small Business Administration (SBA) Michigan District Deputy Award for being a champion for small businesses.
Mark comes to the Fed following more than a decade of managerial experience in the private and public sectors. Prior to joining the Chicago Fed, Mark was Managing Deputy Procurement Officer/Contract Compliance Officer for the City of Chicago from 2007 to 2010, where he managed the day-to-day operations and management of Compliance, Certification, Public Information/Communication, Outreach/Marketing and Vendor Relations. Mark also has private sector experience in management consulting at Deloitte & Touche and finance experience with the First National Bank of Chicago (now J.P. Morgan Chase).
Mark served as the Chair of the Board of Directors for the Chicago MSDC and is currently a member of the WBDC Chicago Regional Advisory Committee.
He holds a bachelor's degree in Economics from the University of Wisconsin-Madison and an MBA from the Lake Forest Graduate School of Management.
Our Partners
Illinois LGBTQ Chamber of Commerce
Disability:IN
National Minority Supplier Development Council (NMSDC)
Women's Business Enterprise National Council (WBENC)
National Gay Lesbian Chamber of Commerce (NGLCC)
Financial Services Roundtable for Supplier Diversity (FSRSD)
Chicago Minority Supplier Development Council (Chicago MSDC)
Chicago United (CU)
Women's Business Development Center (WBDC)
Illinois Hispanic Chamber of Commerce (IHCC)
Michigan Minority Supplier Development Council (MMSDC)
Women's Business Enterprise Council – Great Lakes (WBEC-Great Lakes)
Asian Pacific American Chamber of Commerce (APACC)
National Veteran Business Development Council (NVBDC)
Policy of Non-Discrimination in Contracting
The Federal Reserve Bank of Chicago carries out its procurement activities based on qualifications and merit and does not discriminate on the basis of race, color, national origin, religion, gender, sexual orientation, age or disability in its contracting and procurement activities.
Outreach
As part of the Bank's commitment to supplier diversity, the Bank participates in supplier fairs, national or local chapters of supplier organizations, and small business and minority- and women-owned small business conferences. The Bank is committed to creating awareness within the community about its procurements and processes.