Federal Reserve System Day Ahead Conference on Financial Markets and Institutions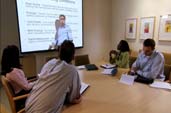 The Federal Reserve Bank of Chicago and the Federal Reserve Bank of Dallas sponsored the fifth annual "day ahead" conference on Thursday, January 5, 2012, (the day before the beginning of the 2012 ASSA meetings in Chicago). The Federal Reserve System employs a large number of economists whose primary research interests relate to financial markets and financial institutions. This is an extremely important area, as witnessed by the heated policy issues debate in recent years. The goal of the "day ahead" conference is to help build a community among these economists, as well as to give them the opportunity to develop ties outside the System. Holding the conference around the ASSA meetings has been helpful in increasing the number of attendees.
All System staff members are invited to attend, but must register in advance.
Conference Organizing Committee
Doug Evanoff, Federal Reserve Bank of Chicago
Scott Frame, Federal Reserve Bank of Atlanta
Diana Hancock, Board of Governors of the Federal Reserve System
Wayne Passmore, Board of Governors of the Federal Reserve System
Harvey Rosenblum, Federal Reserve Bank of Dallas
Thursday, 01/05/12
8:25 AM
Welcome
Daniel&nbspSullivan
,
Federal Reserve Bank of Chicago
8:30 AM
Session 1: Empirical Asset Pricing
Chair
Loretta&nbspMester
,
Federal Reserve Bank of Philadelphia
Tobias&nbspAdrian
,
Federal Reserve Bank of New York
Erkko&nbspEtula
,
Federal Reserve Bank of New York
Tyler&nbspMuir
,
Northwestern University
Jens&nbspChristensen
,
Federal Reserve Bank of San Francisco
Jose&nbspLopez
,
Federal Reserve Bank of San Francisco
Glenn&nbspRudebusch
,
Federal Reserve Bank of San Francisco
Daniel&nbspBeltran
,
Board of Governors of the Federal Reserve System
Maxwell&nbspKretchmer
,
Board of Governors of the Federal Reserve System
Jaime&nbspMarquez
,
Board of Governors of the Federal Reserve System
Charles&nbspThomas
,
Board of Governors of the Federal Reserve System
Eric&nbspEngstrom
,
Board of Governors of the Federal Reserve System
Andrea&nbspAjello
,
Board of Governors of the Federal Reserve System
Michael&nbspBauer
,
Federal Reserve Bank of San Francisco
10:30 AM
Session 2: Liquidity
Chair
Ravi&nbspJagannathan
,
Northwestern University
Nicola&nbspCetorelli
,
Federal Reserve Bank of New York
Linda&nbspGoldberg
,
Federal Reserve Bank of New York
Douglas&nbspGale
,
New York University
Tanju&nbspYorulmazer
,
Federal Reserve Bank of New York
Are Banks Passive Liquidity Backstops? Deposit Rates and Flows during the 2007-09 Crisis
Nada&nbspMora
,
Federal Reserve Bank of Kansas City
Viral&nbspAcharya
,
New York University
Elizabeth&nbspKlee
,
Board of Governors of the Federal Reserve System
Viktors&nbspStebunovs
,
Board of Governors of the Federal Reserve System
Simon&nbspKwan
,
Federal Reserve Bank of San Francisco
Ned&nbspPrescott
,
Federal Reserve Bank of Richmond
Francisco&nbspCovas
,
Board of Governors of the Federal Reserve System
Arvind&nbspKrishnamurthy
,
Northwestern University
2:00 PM
Session 3: Federal Reserve Policy
Chair
Mitchell&nbspPetersen
,
Northwestern University
Christopher&nbspNeely
,
Federal Reserve Bank of St. Louis
Huberto&nbspEnnis
,
Federal Reserve Bank of Richmond
Alexander&nbspWolman
,
Federal Reserve Bank of Richmond
Morten&nbspBech
,
Bank for International Settlements
Spence&nbspHilton
,
Federal Reserve Bank of New York
Hesna&nbspGenay
,
Federal Reserve Bank of Chicago
Larry&nbspWall
,
Federal Reserve Bank of Atlanta
Daniel&nbspThornton
,
Federal Reserve Bank of St. Louis
4:00 PM
Session 4: Financial Markets and the Macroeconomy
Chair
David&nbspAltig
,
Federal Reserve Bank of Atlanta
Jon&nbspFaust
,
Johns Hopkins University
Simon&nbspGilchrist
,
Boston University
Jonathan&nbspWright
,
Johns Hopkins University
Egon&nbspZakrajsek
,
Board of Governors of the Federal Reserve System
Rochelle&nbspEdge
,
Board of Governors of the Federal Reserve System
Ralf&nbspMeisenzahl
,
Board of Governors of the Federal Reserve System
Luca&nbspBenzoni
,
Federal Reserve Bank of Chicago
Modeling Credit Contagion via the Updating of Fragile Beliefs
Pierre&nbspCollin-Dufresne
,
Columbia University
Robert&nbspGoldstein
,
University of Minnesota
Jean&nbspHelwege
,
University of South Carolina
John&nbspDuca
,
Federal Reserve Bank of Dallas
Ian&nbspChristensen
,
Bank of Canada
Greg&nbspDuffee
,
Johns Hopkins University
5:30 PM
Adjournment and Reception
Last Updated: 01/03/2012