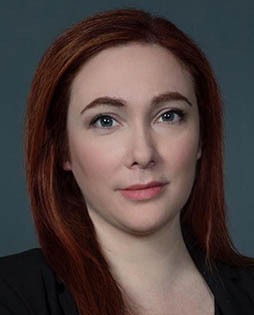 Maggie Sklar
Senior Policy Advisor and Director of International Engagement
Maggie Sklar is a Senior Policy Advisor and Director of International Engagement in the Financial Markets Group at the Federal Reserve Bank of Chicago. Her work focuses on domestic and international public policy issues, including financial regulation, market structure, and payment, clearing, and settlement infrastructures, and she leads the Financial Markets Group's international regulatory engagement.
Ms. Sklar has over 15 years of policy and legal experience with financial institutions and markets. Most recently, Ms. Sklar was Senior Counsel to Chairman J. Christopher Giancarlo at the U.S. Commodity Futures Trading Commission (CFTC), where she advised on a wide range of domestic legal, regulatory, and policy matters, and served as a deputy to the Financial Stability Oversight Council. Prior to that she was Associate Director of International Affairs, where she represented the Commission in international fora, including before the International Organization of Securities Commissions (IOSCO) Board, advised on Financial Stability Board (FSB) matters, and led a team responsible for international regulatory initiatives. She also served as Senior Counsel to Commissioner Mark P. Wetjen, Senior Counsel to LabCFTC, and as a special counsel in the Division of Market Oversight. Prior to her government service, Ms. Sklar was a litigator in private practice where she specialized in complex civil litigation, securities litigation, and government investigations and enforcement.
Ms. Sklar is a cum laude graduate of Georgetown University Law Center and a cum laude graduate of Georgetown University.
Policy Discussion Papers
Maggie Sklar | 2021 | Vol. PDP | No. 2021-2021-01 | March
Download
Working Papers
Maggie Sklar | 2020 | No. 2020-21 | October
Download