Summit on Revisiting the Promise and Problems of Inner City Economic Development, Day 1: Setting the Stage by Focusing on Detroit
Introduction
In partnership with, the W.E. Upjohn Institute for Employment Research, Economic Development Quarterly, SAGE Publications and the Initiative for a Competitive Inner City (ICIC), the Detroit Branch of the Federal Reserve Bank of Chicago hosted a two-day summit on September 15–16, 2015, that studied ongoing economic development efforts within inner city neighborhoods. Experts from academia joined practitioners to discuss new research and programs that have appeared and evolved in recent years. In this blog entry, I will focus on the first day of the summit, which zeroed in on Detroit and its revitalization efforts.
Putting Detroit into Context
William Sander, professor of economics, DePaul University, and consultant, Federal Reserve Bank of Chicago, and William Testa, vice president and director of regional research, Federal Reserve Bank of Chicago, began the conference by providing insight into Detroit's population and economy, respectively. Sander noted that in the middle of the twentieth century, many large cities in the United States started to lose population to surrounding suburban communities. Detroit was no exception to this trend: It had lost around two-thirds of its population since the 1950s. However, many cities have begun to grow in recent years, becoming increasingly attractive to college-educated households; this improvement in the business environment helps attract individual firms, supporting the assertion of Harvard economist Michael Porter that cities are ideal locations for industry clusters and other economic activities.1
According to Sander, despite the recent movement of some college graduates into Detroit's trendy Downtown and Midtown neighborhoods, college graduates only make up 12% of Detroit's population, compared with 34% in Chicago. Then, Sander pointed out that only 10% of 20-something college graduates in the Detroit metropolitan area live in the city of Detroit and that 22% of 20-something college graduates who live in Detroit also work in Detroit. Sander shared his statistical comparison of Chicago and Detroit, which found that households in the Chicago metropolitan area are more likely to live within the city limits than households in the Detroit region. Also, college graduates in Chicagoland are more likely to live in the city than in the suburbs, whereas the opposite is true for college graduates in Metro Detroit.
Testa showed the significant stress Detroit's economy was exposed to during the 2000s. Similar to other manufacturing-centric cities, such as Pittsburgh, Buffalo, and Cleveland, Detroit experienced slower overall employment growth relative to other Midwest cities that possess more of a service-based economy. However, despite its losing millions of units of production in recent years to other vehicle-producing areas, Detroit (and Michigan in general) remains a destination for automakers and suppliers because of its concentration of facilities and talent. Although the Detroit region will most likely continue to contain a significant automotive cluster, employment levels will most likely fail to reach 2000 levels because of firms' ability to produce more with fewer workers.
Testa argued that the Detroit economy needs to continue building on its automotive cluster while also diversifying into other sectors in which it may own competitive advantages. Those other sectors include logistics, engineering, and business services. Testa noted that multiple regional economic development corporations are trying to take advantage of Detroit's growing tech sector in ways that other regions and states have for themselves (e.g., Silicon Valley). Such efforts have resulted in improved per capita income and quality of life for residents.
Current State of the City
Summit attendees also heard from Susan Mosey, executive director, Midtown Detroit, Inc., Martin Lavelle, business economist, Federal Reserve Bank of Chicago–Detroit Branch, and John Gallagher from the Detroit Free Press on where Detroit currently stands in its revitalization attempts. All of them expressed great enthusiasm for the efforts that have taken place so far, as well as optimism for what's to come. Since Detroit filed for bankruptcy in July 2013, a regional lighting authority was formed and began to replace old streetlights with new LEED2 streetlights, a regional water & sewer department authority was formed to improve the efficiency of water/sewer operations, emergency response times have improved,3 new transit buses were purchased,4 and programs to address Detroit's aging housing stock5 and blight6 were introduced.
Significant investment was already occurring in Detroit's Midtown neighborhood before Detroit filed for bankruptcy, and it has only accelerated since. Mosey showed the different kinds of development projects that have been completed and those now in the planning stage. Until recent months, Midtown Detroit, Inc., has focused on renovating existing space into mixed-use properties with retail space on the ground floor and residential space above it. With residential occupancy rates at almost 100% and consumer demand still high, new building projects such as businessman Dan Gilbert's planned Brush Park project7 are set to take off, Mosey noted.
Image 1: Chicago Fed Business Economist Martin Lavelle presenting at the Summit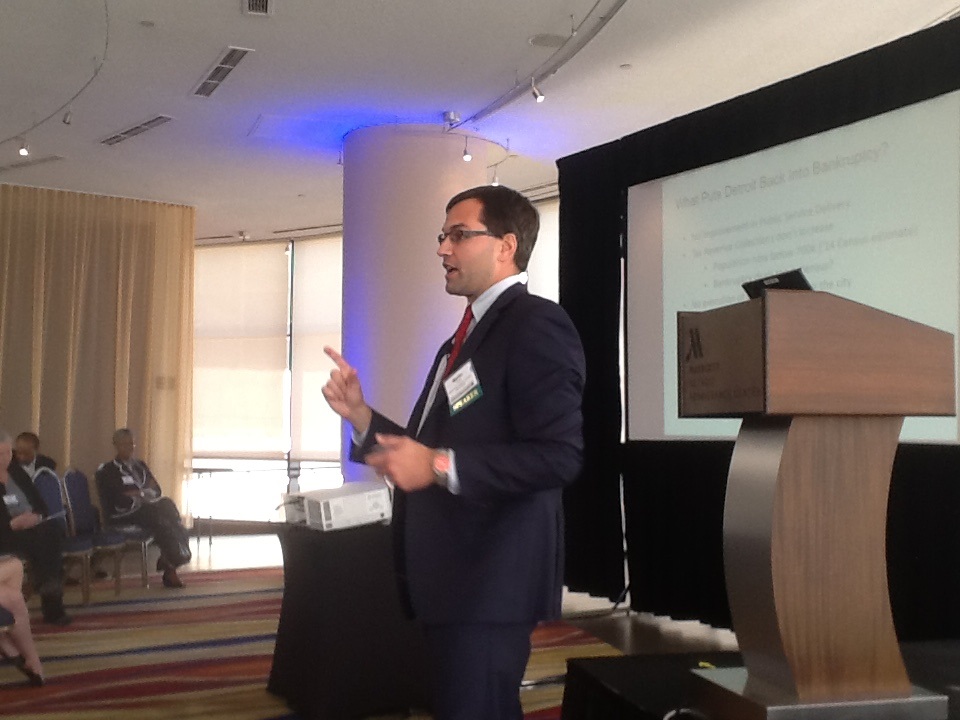 Photo taken by Bill Testa.
Still, as I noted at the conference, Detroit's revitalization efforts must overcome many challenges. The investment taking place in Detroit is occurring in only select neighborhoods. The majority of Detroit's neighborhoods are plagued by low home values, which dissuade potential new residents from moving into them. Also, concerns over the quality of public services and schools remain deterrents to population increases. Another hindrance is the absence of a more extensive, intermodal public transportation system that would better serve and connect Detroit residents with potential places of employment and the surrounding area in general.
Detroit: Up Close and Personal
One of the attractions of the summit was the chance for attendees to take a tour of some of Detroit's areas. Along with representatives of Midtown Detroit, Inc., the Chicago Fed's Detroit Branch staff (including Desiree Hatcher, community development and Michigan director, Community Development and Policy Studies Division; Paul Traub, senior business economist; and Martin Lavelle, business economist) guided the tour around Detroit and provided greater insights into Detroit's turnaround.
The bus tour highlighted Detroit's cluster activity, including the food cluster present in Detroit's Eastern Market where the tour stopped first. Dan Carmody, president, Eastern Market Corporation, expounded on how Eastern Market's role in the city's rebound continues to grow. Tour goers learned about Eastern Market's initiative to provide healthy foods (especially for students) and food education, as well as its continued promotion of local food entrepreneurs. Tour goers also learned about Eastern Market's involvement in projects such as the extension of the Dequindre Cut bikeway and other infrastructure improvements that will better connect the market with other parts of Detroit.
Image 2: Eastern Market Corporation President Dan Carmody presenting during the Summit's Tour of Detroit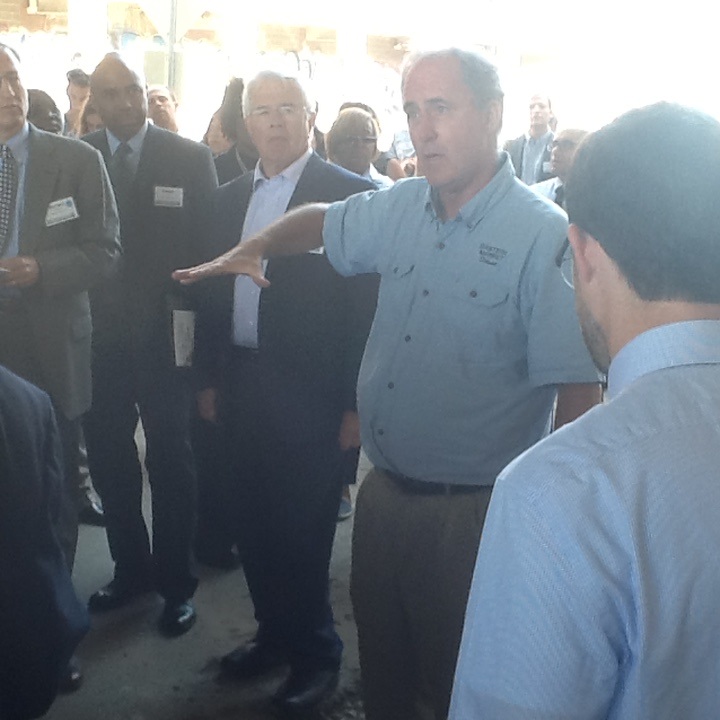 Photo taken by Bill Testa.
After leaving Eastern Market, the tour got a closer look at areas where investment is occurring. Attendees were able to see some of the finished and proposed projects in Midtown that Mosey highlighted in her earlier presentation. One highlight of the Midtown tour was the TechTown campus that now supports Detroit's automotive and logistics clusters as well as the efforts to bring back Detroit's main retail corridors. Upon leaving Midtown, the tour made its way to the historic Boston-Edison neighborhood—an area that has rebounded significantly since it was marked as a "demonstration zone" for concentrated revitalization efforts in 2011 by then-Detroit Mayor Dave Bing.8
Image 3: Senior Business Economist Paul Traub describing the current state of Detroit during the tour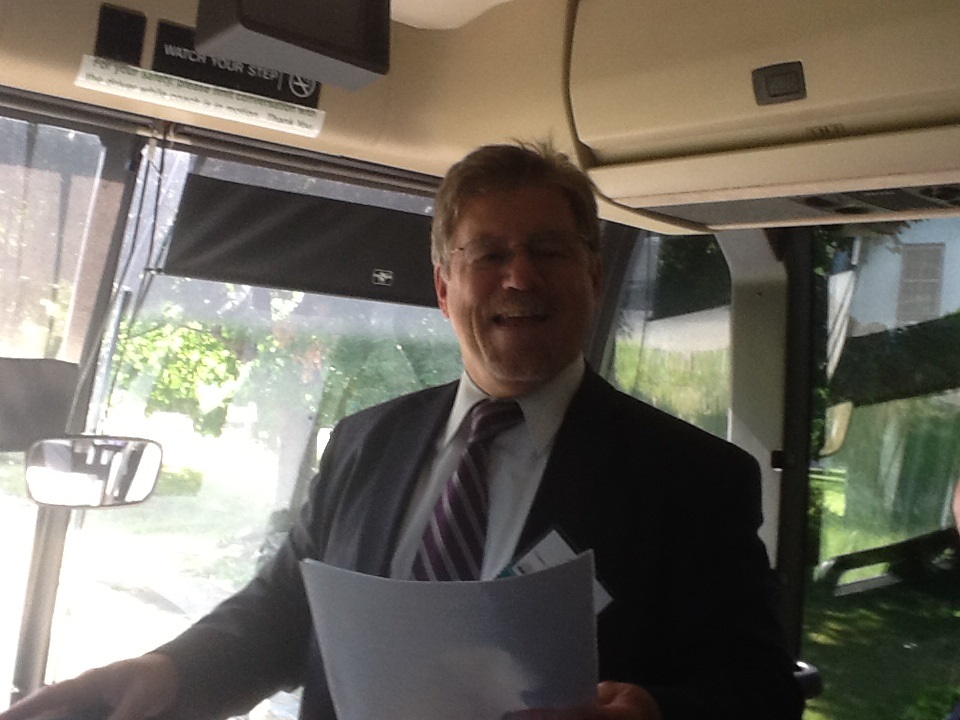 Photo taken by Bill Testa.
The final part of the tour reminded attendees of the challenges that Detroit's revitalization efforts face. Tour attendees were exposed to neighborhoods where little to no investment has occurred, resulting in blight, low population density, and poor infrastructure. Attendees also saw marks of Metro Detroit's sometimes scarred past when division and discrimination overshadowed attempts at regional collaboration. The tour ended with a drive down Jefferson Avenue along the Detroit River, which provided tour goers the opportunity to see the Jefferson-Chalmers neighborhood (which has benefited from burgeoning investment) as well as the beautiful Detroit Riverwalk. Overall, the tour showed the progress of Detroit's turnaround, as well as the challenges that must be met if the city's stakeholders want to continue its revitalization.
Conclusion
Based on Michael Porter's criteria for inner cities, Detroit could be regarded as a developing economy because of its low local skill levels, limited access to capital, shortcomings in technology, poorly developed public service departments, and engagement in monopolistic behavior, which retarded cluster development.9 In addition, using Porter's work, one could argue Detroit's economy possesses many competitive disadvantages, which include the aforementioned attributes as well as the city's poor quality of infrastructure and attitudes concerning the city.10
However, Detroit is beginning to reverse its competitive disadvantages, as the presentations at the summit and the tour of the city showed. Detroit's Downtown and Midtown neighborhoods have become strategic locations in which to conduct business. Moreover, Detroit's industry clusters increasingly interact with other regional clusters, overcoming past regional rivalries. Also, city government has become less of an impediment to cluster development, encouraging and convening forums to engage in dialogue that centers on improving Detroit—as Porter has recommended for other developing economies.11
The overarching goal of the first day of the summit was to show the Detroit as it actually is today. As evident from the summit discussions and the tour, many parts of Detroit are trending upward, generating much enthusiasm for the city's prospects following its emergence from bankruptcy. However, city stakeholders must confront numerous persistent challenges in order for the entire city to enjoy what's transpiring in those particular neighborhoods.
References
1 More information is available online.
2 LEED stands for Leadership in Energy & Environmental Design, and is a green building certification program.
3 More information is available online.
4 More information is available online.
5 More information is available online.
6 More information is available online.
7 More information is available online.
8 More information is available online.
9 See Michael E. Porter, 1998, "Clusters and competition: New agendas for companies, governments, and institutions," Harvard Business School, working paper, No. 98-080, March, p. 24.
10 See p. 61–65 of this document.
11 See Porter (1998, p. 34).
The views expressed in this post are our own and do not reflect those of the Federal Reserve Bank of Chicago or the Federal Reserve System.