What's Driving High Foreclosure Rates?
High and rising foreclosures are a big concern in the Seventh District (IA, IL, IN, MI, and WI) and in the country and will continue to be for some time. Our last guest blog on the Midwest economy digs into what reported foreclosure rates really identify. "Foreclosure starts" measure the pace at which homes are entering foreclosure. This rate reflects any deterioration in the ability of homeowners to meet their mortgage obligations for reasons such as job loss, inability to borrow against home equity due to falling home prices, or rising loan payments. Financial troubles may also be caused by life events, such as sudden medical expenses or divorce. Turning to a stock measure, the "inventory rate of homes in foreclosure" counts homes currently in the process of foreclosure. A high rate can reflect a high rate of past foreclosure starts on homes that have not yet been claimed and sold. However, it can also reflect high transition rates of foreclosure. That is, once a home enters foreclosure, it may linger there because process times are extraordinarily long.
To examine these foreclosures in the Chicago area, let's first look at the drop in home values as a widespread reason that many homes have entered foreclosure over the past few years. With property values in the Chicago metro area having dropped about 18% since the beginning of 2004, many homes are currently valued below the cost of their mortgages (meaning owners have negative equity). Being "under water"–the short hand term for a negative equity situation–on a mortgage limits the homeowner's options to sell or refinance. If owners have to move or cannot afford their monthly payments, this can lead to a default on their loan. Some people may actually choose to default when the amount of their mortgage exceeds the value of their property; this phenomenon is often referred to as "strategic default," since the borrower still may have the ability to repay the loan.
As seen from the table below, many lower income neighborhoods in Chicago have undergone stark declines in home values. In many neighborhoods, home buyers once snapped up homes in response to the general rise in area home values and in response to ready availability of credit. In some instances, new credit instruments brought in buyers under terms that seemed attractive at first, only to prove temporary or even fraudulent later on. Regardless, as the housing bubble burst, home values plummeted from their peaks.
Table 1. Percent Change in Median Home Price in Illinois

Source: Compiled by NHSRC Initiatives, Inc. from Multiple Listing Service data
What about the stock of homes that are currently in foreclosure—that is, foreclosure inventories. Remember that the inventory rate measures the number of loans in foreclosure at a given time as a percentage of the number of active loans. This is typically referred to as the "foreclosure rate." A high inventory rate can contribute to high uncertainty for potential buyers and sellers. On the buy side, potential purchasers can become reluctant, because they do not know the extent to which prices may fall further once homes in foreclosure are put up for sale. On the other side, sellers will be uncertain as to how to price homes for sale, or what prices to accept from buyers.
In comparing inventories across cities and neighborhoods, inventory rates can be a misleading measure of overall home market conditions. That is because high transition times (and inventories) may reflect either high start rates or simply long delays in processing homes that have entered foreclosure.
In Cook County, IL, high inventory rates may partly reflect the latter, where foreclosures are processed through the courts. For an overview of the process, see the timeline below. A foreclosure in Cook County takes about 360 days; in practice that time can actually be significantly longer. Some states, like Michigan, do not require foreclosures to go through the courts, which helps keep the backlog lower. The foreclosure process (either judicial or nonjudicial) varies by state.
Table 2. Judicial & Nonjudicial Differences in Process Period in the Seventh District

Source: RealtyTrac
Illinois is a judicial foreclosure state, which means that foreclosures must be processed through the courts. Court backlogs can lead to long delays. Additionally, during part of 2011 there were temporary freezes in foreclosures initiated by some major banks and mortgage servicers due to concerns about sloppy, or potentially illegal, paperwork in foreclosure cases. Additionally, in 2011 Cook County initiated a mediation program. The goal of the Mortgage Foreclosure Mediation Program is to assist homeowners that are in foreclosure to examine all options to stay in their homes or negotiate the best exit strategy.
Figure 1. Length of Foreclosure Process in Illinois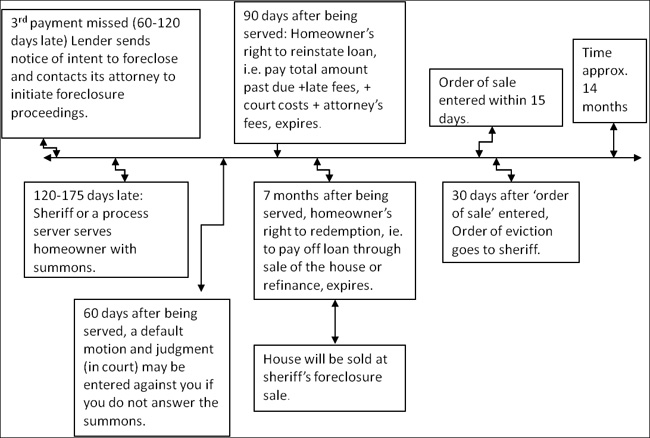 Source: Based on Information from the NHSRC Initiatives, Inc
Clearly, there are many issues working together to raise the high incidence of homes in foreclosure. The foreclosure process (and how we measure foreclosure rates) may be adding to uncertainty and delaying resolution. To learn more and for a current snapshot from county-level data that will be updated quarterly, please check out the Foreclosure Snapshot on our website.
The views expressed in this post are our own and do not reflect those of the Federal Reserve Bank of Chicago or the Federal Reserve System.