Seventh District Economy Update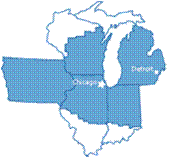 A summary of economic conditions in the Seventh District from the latest release of the Beige Book and from other indicators of regional business activity:
Overall conditions: Economic activity in the Seventh District continued to expand at a moderate pace in June and early July, although the pace of growth slowed.
Consumer spending: Growth in consumer spending further moderated. Retailers cited lower consumer confidence, a weaker customer response to promotions, and extreme summer heat as the main contributors to the lower sales pace.
Business Spending: Business spending continued at a steady pace. However, many contacts had become more cautious about future spending decisions, pointing to the heightened uncertainty surrounding the federal fiscal environment and the upcoming November elections.
Construction and Real Estate: Construction activity increased. Demand continued to be strong for multi-family construction, especially apartments, but also increased for single-family homes. Contacts also noted an increase in commercial construction projects.
Manufacturing: Manufacturing production increased at a slower pace. The auto industry remained a source of strength, but activity softened in the steel and heavy equipment sectors. Exports to Canada and Mexico continued to increase, but exporters noted a decline in demand from Europe and China.
Banking and finance: Credit conditions improved slightly on balance. Refinancing and lending for capital replacement expanded, but with little loan growth for other purposes.
Prices and Costs: Cost pressures weakened as energy prices were noticeably lower while other commodity prices also decreased. Wage pressures continued to be moderate.
Agriculture: Extreme heat and drought conditions spread across most of the District, stressing both crops and livestock. Corn and soybean prices moved sharply higher, and wheat prices also rose.
The Midwest Economy Index (MEI) decreased to +0.51 in May from +0.76 in April, but indicated that Midwest economic growth was above its historical trend for the seventh consecutive month. Midwest growth also continued to outperform its historical deviation with respect to national growth, although the relative MEI decreased to +0.57 in May from +0.71 in April. Estimates of annual growth in gross state product for the five Seventh District states were generally at or slightly above the national rate of growth through the first quarter of 2012.
The Chicago Fed Midwest Manufacturing Index (CFMMI) decreased 1.0% in May, to a seasonally adjusted level of 93.4 (2007 = 100). Revised data show the index was up 2.5% in April. The Federal Reserve Board's industrial production index for manufacturing (IPMFG) decreased 0.4% in May. Regional output rose 10.5% in May from a year earlier, and national output increased 5.4%.
The views expressed in this post are our own and do not reflect those of the Federal Reserve Bank of Chicago or the Federal Reserve System.