Seventh District Update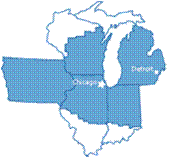 A summary of economic conditions in the Seventh District from the latest release of the Beige Book and from other indicators of regional business activity:
Overall conditions: The rate of growth in economic activity in the Seventh District increased in late November and December, though the overall pace continued to be moderate. Contacts were more optimistic about 2014 than they were during the previous reporting period.
Consumer spending: Growth in consumer spending picked up to a moderate pace in late November and December, with holiday sales modestly exceeding expectations. Total holiday spending was generally lower this year, though contacts indicated that improving consumer confidence and falling unemployment boosted retail activity in some areas.
Business Spending: Business spending edged up in late November and December. Growth in capital expenditures increased slightly, led by spending on structures. The pace of hiring picked up, as did expectations of future hiring.
Construction and Real Estate: Construction and real estate activity increased modestly in late November and December. Demand for residential construction continued to expand and home sales, prices, and rents all rose. Demand for nonresidential construction remained modest, but picked up some, and commercial real estate activity also improved.
Manufacturing: Manufacturing production growth was solid in late November and December. The auto and aerospace industries were again a source of strength. Low steel service center inventories continued to lift the demand for steel, and demand for heavy equipment increased slightly.
Banking and finance: Credit conditions loosened slightly over the reporting period. Equity markets continued to rise, and credit spreads moved lower. Business loan demand improved, while household loan demand was more mixed.
Prices and Costs: Cost pressures increased slightly over the reporting period, but remained mild. Wage pressures were down slightly. Non-wage costs increased, with a number of contacts reporting higher healthcare premiums.
Agriculture: Corn and soybean prices moved a bit higher, but remained well below levels a year ago. Hog prices moved lower, cattle prices were little changed, and milk prices edged up.
The Midwest Economy Index (MEI) increased to +0.27 in November from +0.23 in October, and the relative MEI increased to +0.24 in November from +0.21 in October. November's value for the relative MEI indicates that Midwest economic growth was higher than would typically be suggested by the growth rate of the national economy.
The views expressed in this post are our own and do not reflect those of the Federal Reserve Bank of Chicago or the Federal Reserve System.