Making Chicago Greener
In honor of Earth Day last week, and in light of the emphasis that CDPS places on workforce development, this blog will profile two programs helping the formerly incarcerated enter or re-enter the workforce while making Chicago "greener."
According to various reports, the United States has the world's highest incarceration rate. None of the world's other 33 (as characterized by UNICEF) industrialized nations ranks in the top 20 countries (most of which are small island nations) with the highest proportion of their populations in jail or prison. While the societal ramifications and racial/ethnic disparities in rates of incarceration are of deep concern to many, the economic ramifications are also compelling. A 2010 Center for Economic and Policy Research paper determined that lost productivity from persistent unemployment among those formerly incarcerated amounted to roughly $60 billion annually. Further, barriers to employment faced by ex-incarcerated represent a long-standing community development issue – as economic mobility is predicated on living-wage jobs – and many, the data reveal, return to criminal activity. The Illinois Sentencing Policy Advisory Council recently found a 48 percent three-year criminal justice system recidivism rate and a 19 percent one-year recidivism rate in Illinois.
Growing Home and Sweet Beginnings are organizations whose mission is training and employing formerly incarcerated individuals. They also concentrate their efforts on employing people they serve in 'green' industries.
Since 2002, Growing Home, located in Englewood, has exemplified and promoted its philosophy that "everyone deserves to have a good job, and everyone deserves to eat well." At Growing Home, an urban farm, workers are involved in every aspect of production, from planting to selling. In 2015, the organization produced 30,000 pounds of organic produce, helped 618 people from the community learn about healthy eating and farming through community events, and had 25 farm stands that sold produce at reduced prices to Englewood residents – including people using LINK and WIC government vouchers. Growing Home also sells produce at the Green City Market in Lincoln Park and The Logan Square Market.
Growing Home's approach involves more than job training as clients must often embrace lifestyle changes to secure lasting employment. The organization provides clients 25 hours per week of in-house work experience, as well as job preparedness, placement, retention, and GED training. The program lasts 14 weeks, although some production assistants (PAs), as clients are called, find additional, outside work after as few as seven weeks in the program.
April Harrington, Growing Home's development director, says that Growing Home is always looking for more employment partners, and that "more and more companies want to be socially conscious in some way." Still, many employers need to be convinced that Growing Home's graduates will be strong employees and fit into their workplace, and the organization takes care to develop their clients' interpersonal skills too.
Growing Home is currently working with Philip Hong, a Loyola University Chicago professor in the School of Social Work, to provide a strong soft-skills curriculum to complement its hard-skills training and certification. The program, in addition to addressing criminal records, helps address outside factors that might impact anyone seeking steady employment, including child care, housing, and medical insurance and services. The ultimate goal is self-sufficiency: Growing Home collaborates with local food-focused businesses to place clients in full-time positions. Their program performance highlights for 2015 include: 82 percent program completion; 84 percent job placement; and four people who got their criminal records sealed or expunged with their partnership with Cabrini Green Legal Aid. In addition, 80 percent of graduates hold jobs one year after graduation, and recidivism rates are around 17 percent.
A key factor in Growing Home's impact is the trust (stemming from a 'high-touch' and empathy-driven approach to clients) that builds among staff, PAs, and graduates. Ms. Harrington notes that one point differentiating Growing Home from other employee training programs is that Growing Home's staff "gets to know each and every PA." Some 40 different partner organizations around Chicago work with Growing Home to refer applicants, but one of the most important ways applicants learn about the program is through personal referral. Growing Home accepted 50 new PAs for this year's program, and plans to expand the class to 60 next year. However, Growing Home receives nearly ten times more applicants than it can accept, illustrating the demand for this type of holistic job training program in Chicago.
Sweet Beginnings has a "triple bottom line mission1: social, economic, and product (see their full mission statement below). In 2004, the program was launched through the North Lawndale Employment Network (NLEN) with the goal of creating jobs for people with significant barriers to entry, especially those with criminal backgrounds. Brenda Palms Barber, Sweet Beginnings' president and the executive director of NLEN, likes to point out that NLEN "accepts anyone, no matter what their background," into their U-Turn Permitted program. Sweet Beginnings takes pride in hiring candidates who face significant challenges in finding employment elsewhere. Since its inception, over 410 people have been employed making "beelove"™ products (both body care products and honey) by producing over 1,600 pounds of honey. The jobs created get people working around honeybees and hives, and also teach them the importance of honeybees in the natural food chain and the (manmade) food supply chain. In addition, Sweet Beginnings employees hired through the U-Turn Permitted program have a recidivism rate of one-tenth of Illinois' statewide rate (i.e., 5 percent).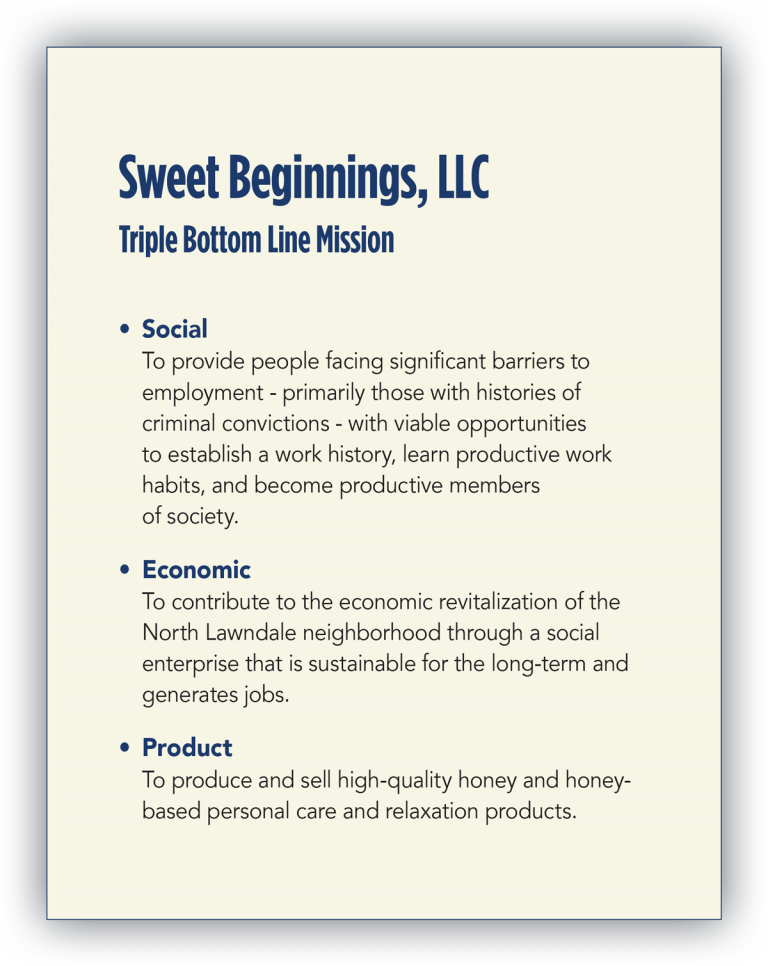 Like Growing Home, Sweet Beginnings works in partnership with other organizations to address a nationwide problem at a community level. Sweet Beginnings usually hires four to six U-Turn Permitted graduates at a time, and 135 graduates annually, while NLEN placed over 600 graduates with jobs last year. Both of these programs demonstrate the impact that local organizations can have, and provide a model for reducing the linked concerns of recidivism and unemployment for ex-offenders transitioning back to their communities.
Footnotes
1 For an expanded discussion of Seventh District organizations providing workforce training services for difficult to employ populations, see this ProfitWise News and Views article.
The views expressed in this post are our own and do not reflect those of the Federal Reserve Bank of Chicago or the Federal Reserve System.