District Economy Update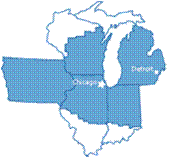 A summary of economic conditions in the Seventh District from the latest release of the Beige Book:
Overall conditions: Economic activity in the Seventh District picked up in late November and December. Seventh District business contacts were generally optimistic about the economic outlook for 2012, but many also expressed concern about potential weakness in demand from abroad, particularly from China and Europe.
Consumer spending: Compared to last year's holiday season, store traffic volumes were up significantly in December. Auto sales also increased since the last reporting period. Contacts expected sales to continue to improve in 2012, citing a boost from replacement demand in light of the record high average age of vehicles in the U.S.
Business Spending: Business spending was steady in late November and December and inventory levels were reported to be generally in-line with sales. Hiring remained selective, but the majority of contacts indicated plans to increase employment next year.
Construction and Real Estate: Construction activity was subdued in late November and early December, but there was some improvement in overall real estate conditions as multi-family construction remained an area of strength and nonresidential construction increased moderately.
Manufacturing: Manufacturing production growth increased in late November and December. Demand for heavy equipment remained strong and auto production increased over the reporting period. In the steel sector, inventories at service centers remain near desired levels.
Banking and finance: Credit conditions were little changed during the reporting period. Corporate funding costs, while variable, were largely unchanged on balance. Business loan demand continued to be subdued, and business utilization of credit lines was only up a bit.
Prices and Costs: Cost pressures eased in late November and December. While pressure on costs remained from commodities such as steel and food, it moderated significantly for cotton and energy goods. Wage pressures remained moderate.
Agriculture: Prices for corn and soybean rose in the last half of December, though crop prices generally fell during the harvest period. Milk and hog prices fell during the reporting period, while cattle prices increased.
The Midwest Economy Index (MEI) increased to –0.15 in November from –0.30 in October and remained below its historical trend for the fourth consecutive month. However, Midwest growth outperformed its historical deviation with respect to national growth, as the relative MEI increased to +0.04 in November from –0.32 in October largely on the basis of sizeable gains in consumer spending indicators. Estimates of annual growth in gross state product for the five Seventh District states were at or above the national rate of growth through the third quarter of 2011.
The Chicago Fed Midwest Manufacturing Index (CFMMI) decreased 0.1% in November, to a seasonally adjusted level of 85.8 (2007 = 100). Revised data show the index increased 1.0% in October. The Federal Reserve Board's industrial production index for manufacturing (IPMFG) decreased 0.3% in November. Regional output in November rose 7.1% from a year earlier, and national output increased 4.2%.
The views expressed in this post are our own and do not reflect those of the Federal Reserve Bank of Chicago or the Federal Reserve System.