Midwest Economy Update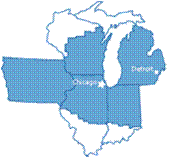 A summary of economic conditions in the Seventh District from the latest release of the Beige Book:
"Economic activity in the Seventh District continued to expand slowly in June and early July. Contacts expressed heightened uncertainty about the economic outlook given recent weaker-than-expected demand as well as the ongoing fiscal issues in the U.S. and Europe."
Consumer spending: Consumer spending picked up some in June and early July. Consumers took advantage of early summer promotions for apparel and accessories. Auto sales edged lower in June, but then improved moderately in early July as incentives increased.
Business Spending: Inventory investment decreased, but expenditures on equipment and structures increased. Labor market conditions weakened. Hiring continued at a slow pace, layoffs picked up, and unemployment in the District increased.
Construction and Real Estate: Construction activity was again subdued, apart from an increase in construction of apartments and manufacturing facilities. Residential real estate conditions remained weak, while commercial real estate conditions improved, albeit moderately.
Manufacturing: Manufacturing production continued to expand at a steady pace. Automakers indicated that production was recovering from the Japanese supply chain disruptions, and capacity utilization in the steel industry reached its highest point since 2008.
Banking and finance: On balance, credit conditions improved modestly in June and early July. Volatility increased, but funding costs and liquidity tightened only marginally. Credit terms and availability continued to improve, though standards remained tight for many borrowers.
Prices and Costs: Despite recent price declines, prices for many commodities remained elevated. Fuel surcharges and shipping costs also have yet to come down, and pass-through of higher wholesale costs to the retail sector picked up. Wage pressures remained moderate.
Agriculture: Despite recent above-average temperatures, contacts remained optimistic for corn and soybean yields this fall. On balance over the reporting period, cash prices for corn, wheat, and cattle were down while prices for soybeans, milk and hogs prices moved higher.
The Midwest Economy Index (MEI) declined to +0.37 in June from +0.85 in May, but remained above its historical trend for the sixteenth consecutive month. In addition, Midwest growth continued to outperform its historical deviation with respect to national growth, although the relative MEI decreased to +1.01 in June from +1.48 in the previous month.
The Chicago Fed Midwest Manufacturing Index (CFMMI) was essentially unchanged in June, at a seasonally adjusted level of 84.0 (2007 = 100). Revised data show the index increased 0.4% in May. The Federal Reserve Board's industrial production index for manufacturing (IPMFG) was also essentially unchanged in June. Regional output in June rose 7.1% from a year earlier, and national output increased 4.1%.
The views expressed in this post are our own and do not reflect those of the Federal Reserve Bank of Chicago or the Federal Reserve System.