Seventh District Update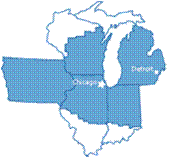 A summary of economic conditions in the Seventh District from the latest release of the Beige Book and from other indicators of regional business activity:
Overall conditions: Economic activity in the Seventh District continued to expand at a moderate pace in April and May.
Consumer spending: Consumer spending increased at a slower rate, due in large part to the unseasonably warm temperatures that boosted activity in the early spring.
Business Spending: Business spending continued at a steady pace and inventories were generally indicated to be at comfortable levels. Labor market conditions were little changed, and hiring remained selective in many industries.
Construction and Real Estate: Construction activity increased as demand continued to be strong for multi-family construction, especially apartments, but also increased for single-family homes. Residential and commercial real estate conditions continued to slowly improve.
Manufacturing: Manufacturing production increased at a steady pace. Capacity utilization in the steel industry reached its highest level since the end of the recession, and the auto industry remained a source of strength.
Banking and finance: Credit conditions were little changed on balance. Credit availability improved for commercial real estate and consumer auto loans, while lending standards for residential mortgages remained tight.
Prices and Costs: Cost pressures leveled off. Wage pressures continued to be moderate and retailers indicated that they were largely absorbing higher transportation costs and continued to heavily discount items such as clothing.
Agriculture: District corn and soybean planting were well ahead of last year's pace. Corn, soybean, and milk prices fell during the reporting period, while wheat, hog, and cattle prices rose.
The Midwest Economy Index (MEI) edged down to +0.76 in April from +0.82 in March, marking the sixth consecutive month that Midwest economic growth was above its historical trend. In addition, Midwest growth continued to outperform its historical deviation with respect to national growth, as the relative MEI increased to +0.64 in April from +0.20 in March, recording its largest month-to-month increase since March 2010.
The Chicago Fed Midwest Manufacturing Index (CFMMI) increased 2.4% in April, to a seasonally adjusted level of 94.2 (2007 = 100). Revised data show the index was down 0.3% in March. The Federal Reserve Board's industrial production index for manufacturing (IPMFG) increased 0.6% in April. Regional output rose 12.0% in April from a year earlier, and national output increased 5.8%.
The views expressed in this post are our own and do not reflect those of the Federal Reserve Bank of Chicago or the Federal Reserve System.