Seventh District Update, September 2013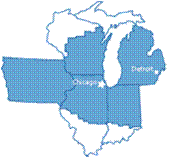 A summary of economic conditions in the Seventh District from the latest release of the Beige Book and from other indicators of regional business activity:
Overall conditions: The pace of economic activity in the Seventh District improved in July and August, and contacts generally expected growth to remain moderate for the rest of the year.
Consumer spending: Growth in consumer spending picked up a bit in July and August. Auto sales rose, continuing to outpace growth in non-auto retail sales. Non-auto retail sales increased modestly, with sales of luxury and housing-related items improving.
Business Spending: Growth in business spending also picked up some in July and August. Contacts reported making moderate investments in equipment and software and structures, but inventory investment decreased. Labor market conditions also softened a bit.
Construction and Real Estate: Construction and real estate activity increased further in July and August. Demand for residential construction grew steadily, as did activity in the residential real estate market. Nonresidential construction grew at a more modest pace and commercial real estate conditions continued to improve.
Manufacturing: Growth in manufacturing production increased in July and August. The auto industry continued to be a source of strength and steel production again grew at a moderate pace. Demand for heavy equipment remained soft, although demand for construction equipment continued to strengthen.
Banking and finance: Credit conditions tightened some over the reporting period. Banking contacts cited a modest reduction in overall business loan demand, but noted continued steady growth for commercial and industrial loans in the middle market. Consumer loan demand continued to increase, particularly for auto lending, and mortgage lending rose.
Prices and Costs: Cost pressures were moderate in July and August. Contacts noted an increase in some commodity prices. Retailers again reported mostly modest increases in wholesale prices and wage pressures were mild.
Agriculture: Abnormal dryness affected much of the District during the reporting period, lowering expectations for crop yields. However, conditions remain much better than a year ago. Corn, soybean, wheat, hay, milk, hog, and cattle prices all decreased.
The Midwest Economy Index (MEI) increased to +0.25 in July from –0.11 in June, and the relative MEI rose to +0.45 in July from –0.16 in June. July's value for the relative MEI indicates that Midwest economic growth was somewhat higher than would typically be suggested by the growth rate of the national economy.
The Chicago Fed Midwest Manufacturing Index (CFMMI) decreased 0.1% in July, to a seasonally adjusted level of 95.8 (2007 = 100). Revised data show the index was up 0.4% in June. The Federal Reserve Board's industrial production index for manufacturing (IPMFG) moved down 0.1% in July. Regional output rose 1.6% in July from a year earlier, and national output increased 1.5%.
The views expressed in this post are our own and do not reflect those of the Federal Reserve Bank of Chicago or the Federal Reserve System.