Seventh District Update, July 2014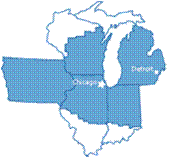 A summary of economic conditions in the Seventh District from the latest release of the Beige Book and from other indicators of regional business activity:
Overall conditions: Growth in economic activity remained moderate in June and contacts maintained their optimistic outlook for the rest of the year.
Consumer spending: Consumer spending increased in June, but the overall pace of growth remained modest. In most cases, retail sales met or fell slightly below expectations. Light vehicle sales rose as consumers continued to enjoy favorable incentives and credit conditions.
Business spending: Business spending continued to grow at a moderate pace in June. Capital expenditures and spending plans continued to increase, with expenditures still concentrated on industrial and IT equipment. Hiring picked up and hiring expectations continued to increase, with the gains more pronounced in the service sector than in manufacturing.
Construction and real estate: Construction and real estate activity increased at a moderate pace in June. Residential construction increased, but home sales declined modestly. Nonresidential construction strengthened considerably and commercial real estate activity continued to expand.
Manufacturing: Manufacturing production continued to grow at a moderate pace in June. The auto, aerospace, and energy industries remained a source of strength for the District. Steel service centers reported improving order books, as did many specialty metal manufacturers. Demand for heavy machinery grew at a slow but steady pace, weighed down by the weakness in mining.
Banking and finance: Credit conditions improved moderately. Corporate financing costs decreased further. Business lending increased, with contacts noting a pickup in demand for financing of equipment and commercial real estate. Growth in consumer loan demand was steady.
Prices and costs: Cost pressures increased, but remained modest. Energy costs remained elevated. Competition put downward pressure on retail prices, but wholesale prices changed little, compressing margins. Wage pressures increased, primarily for skilled workers. Non-wage labor costs were little changed.
Agriculture: The District's corn and soybean crops made up ground as favorable weather helped plants emerge more quickly than the five-year average. Corn, soybean, wheat, milk and cattle prices moved down, while hog prices moved higher as disease affected supplies.
Led by improvements in the manufacturing sector, the Midwest Economy Index (MEI) increased to +0.41 in May from +0.11 in April, reaching its highest level since December 2013. However, the relative MEI remained negative for the third straight month, after edging down to –0.38 in May from –0.36 in the previous month. May's value for the relative MEI indicates that Midwest economic growth was moderately lower than would typically be suggested by the growth rate of the national economy.
The views expressed in this post are our own and do not reflect those of the Federal Reserve Bank of Chicago or the Federal Reserve System.