How Did the Government Shutdown Affect the Chicago Fed's Business Survey Contacts?
From December 22, 2018, to January 25, 2019, the federal government was partially shut down. In the latest round of the Chicago Fed Survey of Business Conditions (which was conducted from February 11 through 27), we asked our contacts about the extent to which the shutdown affected their businesses in terms of product demand, business operations, business decisions, and outlook for the U.S. economy. Overall, the effects were limited.
Figure 1 shows that 16% of our contacts experienced a decline in product demand, while the vast majority reported no change. Many businesses that experienced a decline were financial institutions that had to delay extending Small Business Administration (SBA) loans.
1. Effect of the shutdown on product demand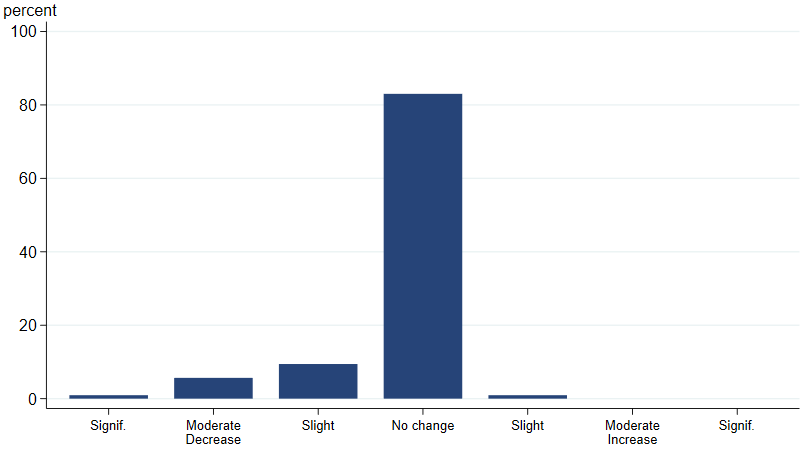 Note: There were 106 respondents.
Source: Federal Reserve Bank of Chicago.
While the shutdown had a limited effect on demand for our contacts' products, about one-third of them said that the shutdown had affected their business operations, primarily because they were not able to access services from federal government agencies. Contacts listed a number of unavailable agencies, including the Internal Revenue Service, SBA, U.S. Department of Agriculture, Department of Homeland Security (E-Verify and ICE), Census Bureau, Department of Housing and Urban Development, Federal Housing Administration, Food and Drug Administration, and Federal Highway Administration. As an example of how agency closures affected business operations, one real estate developer said that they were working with "two breweries that couldn't get their licenses processed, and now there's a backlog of work. It's affected the entire project schedule, purchases of equipment, subcontractors, etc." In addition, a manufacturer told us, "Some equipment that shipped from overseas was hung up in customs, costing us some revenue, and resulting in an upset customer."
About 10% of respondents were forced to make changes to their business plans. Of those, 40% delayed hiring, 20% delayed capital spending, 10% cut hiring plans, and 20% cut capital spending plans.
The shutdown also had an effect on our contacts' outlooks for the U.S. economy. Figure 2 shows that 52% of respondents' outlooks deteriorated. Commonly cited reasons for a more pessimistic outlook were the effects of reduced government spending on GDP and increased uncertainty about federal government policy. A small number of contacts reported improved outlooks. One contact believed the shutdown had had a small impact, which demonstrated the underlying strength of the U.S. economy.
2. Effect of the shutdown on outlook for the U.S. economy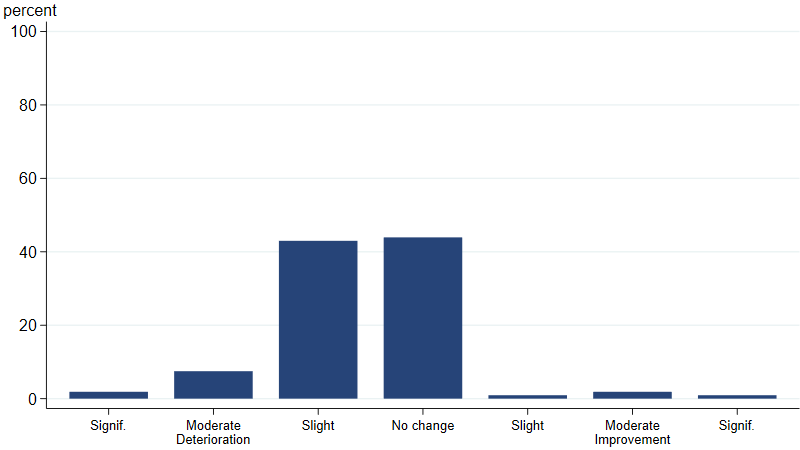 Note: There were 107 respondents.
Source: Federal Reserve Bank of Chicago.
All told, the government shutdown had a limited effect on our business survey contacts. That said, many of them reported that it slowed their work and created additional uncertainty.
The views expressed in this post are our own and do not reflect those of the Federal Reserve Bank of Chicago or the Federal Reserve System.