The Downturn in Agriculture: Implications for the Midwest and the Future of Farming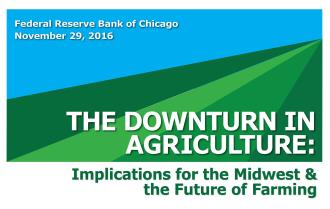 On November 29, 2016, the Federal Reserve Bank of Chicago held a conference to examine the agricultural downturn in the Midwest and discuss future directions for farming.
With prices for key agricultural products falling from their peaks in recent years, many farm operations are having to deal with lower revenues. Moreover, farms face thinner profit margins — and even losses — since their input costs have not fallen as much as product prices. The U.S. Department of Agriculture projects that net income for the farm sector will decline for a third consecutive year in 2016. This downturn has hit the Midwest hard, as seen in lower farmland values and cash rental rates for cropland.
At the conference, experts from academia, industry and policy institutions explored the agricultural downturn's implications for both the farm sector and the broader regional economy. The goals of the conference included understanding key trends in farm income, product prices, and input costs; assessing the primary factors behind the sector's downturn; examining policies that provide support to farm operations and promote risk management; and discussing the role of agricultural lending under these challenging circumstances, as well as in the next phase for agriculture.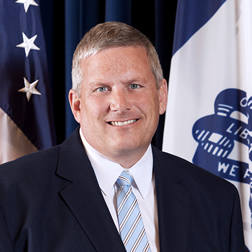 Secretary Bill Northey
Iowa Department of Agriculture and Land Stewardship

Bill Northey is a fourth generation farmer from Spirit Lake, Iowa who grows corn and soybeans. Northey returned to Spirit Lake to farm with his grandfather after graduating from Iowa State University in 1981. He was reelected to his third term as Iowa Secretary of Agriculture in November of 2014, winning with 62 percent of the vote and receiving more votes than any other candidate in the state.

As Secretary, Northey has committed to traveling to each of Iowa's 99 counties every year to hear from farmers and rural residents with a stake in the future of agriculture. These meetings allow him to listen to their needs and better lead the Iowa Department of Agriculture and Land Stewardship as it seeks to serve the people of the state. His priorities as Secretary of Agriculture are advancing science and new technologies to better care for our air, soil and water and reaching out to all Iowans to tell the story of Iowa agriculture.

Tuesday, 11/29/16
8:00 AM
Registration and Continental Breakfast
9:00 AM
Welcome and Opening Remarks
David&nbspOppedahl
,
Senior Business Economist
,
Federal Reserve Bank of Chicago
9:15 AM
Session 1: Impacts of the Agricultural Downturn on Farms and Communities
Bob&nbspYoung
,
Chief Economist and Deputy Executive Director
,
American Farm Bureau Federation
Dave&nbspSwenson
,
Associate Scientist
,
Department of Economics, Iowa State University
10:45 AM
Session 2: Agricultural Finance Trends
Nathan&nbspKauffman
,
Assistant Vice President and Omaha Branch Executive
,
Federal Reserve Bank of Kansas City
Ani L.&nbspKatchova
,
Associate Professor and Farm Income Enhancement Chair
,
Ohio State University
Sarah&nbspTulman
,
Economist
,
Economic Research Service, U.S. Department of Agriculture
12:00 PM
Lunch
Keynote
Bill&nbspNorthey
,
Secretary
,
Iowa Department of Agriculture and Land Stewardship
1:30 PM
Session 3: Farm Policy's Role During the Downturn and Going Forward
Jonathan&nbspCoppess
,
Clinical Assistant Professor
,
University of Illinois at Urbana-Champaign
2:30 PM
Session 4: Panel Discussion – How Will Financing Agriculture Evolve in Response to the Farm Downturn?
Moderator
Jeffrey&nbspJensen
,
Assistant Vice President, Supervision and Regulation
,
Federal Reserve Bank of Chicago
Panelists
James L.&nbspPlagge
,
President and Chief Executive Officer
,
Bank Iowa Corporation
Paul&nbspAnderson
,
Executive Vice President and Chief Credit Officer
,
Farm Credit Services
Paul N.&nbspEllinger
,
Vice Provost for Budget and Resource Planning and Professor
,
University of Illinois at Urbana-Champaign