Seventh District Update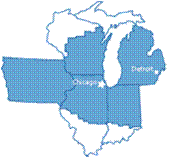 A summary of economic conditions in the Seventh District from the latest release of the Beige Book and from other indicators of regional business activity:
Overall conditions: Growth in economic activity in the Seventh District slowed in January and February, as severe winter weather affected activity in a number of sectors. The modest pace of growth to start the year tempered contacts' expectations only somewhat, as most generally maintained their optimistic outlook for 2014.
Consumer spending: Growth in consumer spending slowed to a modest pace in January and February. The poor winter weather initially benefitted some retail categories through increased sales of necessities, but eventually led to declining customer traffic and sales.
Business Spending: Growth in business spending also slowed to a modest pace in January and February. Growth in capital spending slowed somewhat, while plans for future capital expenditures edged higher. The pace of hiring slowed, as did expectations of future hiring, though expectations for the coming year remained positive.
Construction and Real Estate: Construction and real estate activity again increased modestly in January and February. While the weather affected the housing market, it continued to improve slowly, with home prices and residential rents rising modestly. Nonresidential construction grew slowly, and commercial real estate activity ticked up.
Manufacturing: Manufacturing production growth slowed to a modest pace in January and February, as unusually bad winter weather dampened demand. The auto industry remained a source of strength. Demand for steel dropped as weather interfered with transportation, and demand for heavy equipment remained soft.
Banking and finance: Credit conditions were little changed on balance over the reporting period. Equity market volatility increased and credit spreads widened some. Growth in business loan demand was slow but steady, and growth in consumer loan demand remained modest.
Prices and Costs: Cost pressures remained mild overall, though the weather pushed up prices for energy commodities. Contacts continued to report rising healthcare premiums.
Agriculture: The weather delayed shipments of agricultural products. Corn and soybean prices were up. Livestock producers' bottom lines improved with higher prices for milk, hogs, and cattle combined with lower feed cost.
Led by improvements in the service sector and consumer spending indicators, the Midwest Economy Index (MEI) reached its highest value in December since May 2012, increasing to +0.48 from +0.33 in November. Moreover, the relative MEI increased to +0.15 in December from +0.13 in the previous month. December's value for the relative MEI indicates that Midwest economic growth was higher than would typically be suggested by the growth rate of the national economy.
The views expressed in this post are our own and do not reflect those of the Federal Reserve Bank of Chicago or the Federal Reserve System.