Seventh District Update, April 2015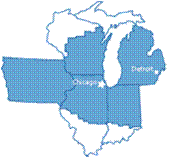 A summary of economic conditions in the Seventh District from the latest release of the Beige Book and from other indicators of regional business activity:
Overall conditions: Growth in economic activity in the Seventh District remained moderate in March, and contacts expected growth to continue at a similar pace over the next six to twelve months.
Consumer spending: Growth in consumer spending remained moderate. Non-auto retail sales increased modestly, while auto sales increased substantially.
Business Spending: Overall, inventory levels were comfortable, though steel service center inventories were exceptionally high. The pace of capital spending picked up some and employment grew moderately.
Construction and Real Estate: Demand for residential construction grew slightly. Home prices increased, residential rents held steady, and housing inventories remained near historic lows. Nonresidential construction activity ticked up and commercial real estate activity increased modestly.
Manufacturing: Growth was again moderate. The auto and aerospace industries remained a source of strength and most specialty metals manufacturers reported solid order books. However, capacity utilization in the steel industry decreased, and sales of heavy machinery and heavy trucks grew slowly.
Banking and finance: Credit conditions improved some. Financial market volatility stabilized and credit spreads declined slightly. Business and consumer loan demand both continued to grow.
Prices and Costs: Cost pressures were little changed overall. Energy prices were up slightly, but remained low. Metals prices declined. Retail prices were little changed. Wage pressures increased slightly, while non-wage pressures declined slightly.
Agriculture: High stocks of corn and soybeans and slower export growth put downward pressure on most crop prices. Higher output pushed down milk prices, hog prices fell because so many were brought to market, and cattle prices were up as herds are being rebuilt.
The Midwest Economy Index (MEI) was unchanged at +0.49 in February. The relative MEI rose to +0.45 in February from +0.36 in January. February's value for the relative MEI indicates that Midwest economic growth was somewhat higher than would typically be suggested by the growth rate of the national economy.
The views expressed in this post are our own and do not reflect those of the Federal Reserve Bank of Chicago or the Federal Reserve System.